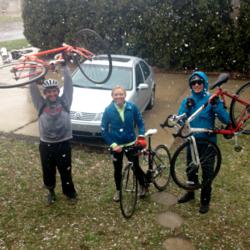 East Lansing, MI (PRWEB) April 24, 2013
On May 18th, Jackie Saunders (leader of the Lansing lupus Support Group) and three friends will be biking roughly 100 miles from the Sparty Statue at Michigan State University to the Michigan Lupus Foundation Office in St. Clair Shores.
Jackie was diagnosed with lupus in 2010, and is doing this ride in celebration of the 1,160 days it has been since she was last in the hospital from lupus, as well as in honor of her roommate's mother, Maggie Ondrus, who passed away from lupus in 2001.
This incredible ride is an amazing feat by Jackie and her companions. You can follow her preparation leading up to the ride in her blog at gearlybeloved.wordpress.com. Jackie is also collecting donations for her cause at the same website. Please consider donating, as your support will help those with lupus and will motivate Jackie on her journey!