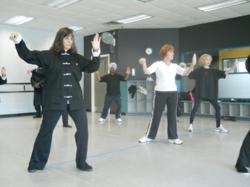 Flemington, NJ (PRWEB) April 26, 2013
Be a part of the healing wave of positive intention that will be circling the planet on April 27th. At 10:00am in every time zone around the world people will practice Tai Chi, QiGong, and Meditation in parks, fields, community centers or in their local Tai Chi school. HealthQuest will be opening its doors from 9:30am to 11:30am on Saturday, April 27th to celebrate this occasion.
Researchers have found growing evidence that this mind-body practice has value in treating or preventing many health problems, such as high blood pressure, diabetes, and bad heart health. Tai Chi has also been shown to help boost the immune system and improve balance and respiratory-circulatory function.
The program will include a short workshop on Tai Chi, performing the Yang Style Form at 10:00am and presentations by some of Hunterdon County health healing arts practitioners. Practitioners include:
Vincent Verderosa, A
Mr. Verderosa has been practicing "Jin Shin Do" Method of Acupressure for 30 yrs. He received his certificate in 1980 from the Jin Shin Do Institute in California. Also, under the guidance of his life teacher "Prem Rawat", he has been practicing "Raj Yoga" (King of Union with the Primordial vibration of life) for 40 yrs. He is also proficient in Reflexology. Mr. Verderosa has found the combination of these practices work wonders on himself and the connection he has with his clients. Bringing a calm and relaxed effect on oneself and enabling the healing to start.
Mr. Verderosa's motto is, "Have Table will Travel". Acupressure, Tension Point Release & Massage. Therefore he will travel to perform his practice anywhere.
Roger Qian, Ph.D., L.Ac.
Dr. Roger Qian is a licensed acupuncturist in NJ, NY and PA and nationally certified in Acupuncture and Chinese Herbology. Dr. Qian graduated from the Tri-State College of Acupuncture in New York City with a Master's Degree in Acupuncture. In addition, he completed a two-year study in Chinese Herbology and was trained at several hospitals in Beijing, China.
As a Traditional Chinese Medicine practitioner, Dr. Qian believes that the body, the mind, and the spirit are closely interconnected and inter-affected. He pays great attention to root causes when treating symptoms. He provides holistic care and recommendations on lifestyle, nutrition and exercise.
Dr. Qian's practice, Acupuncture Holistic Center of NJ, is located in Flemington, NJ
Susan Smith RN, MSN
Susan Smith is the owner of Avalon Healing Arts, LLC. In Lebanon, NJ. Her training and experience includes, Self-designed Master's Degree in Nursing with a focus in holistic health and education from Drexel University. She has worked at hospitals and agencies affiliated with both Harvard and Tufts Medical schools. She is a Reiki Master Teacher in Traditional Usui, Celtic, and Karuna Reiki. Integrated Energy Therapy Master Instructor and " ArtBundance" (R) Coach and Practitioner. Susan is a Certified Meditation Instructor. She has had training in Past Life Regression with Brian Weiss, MD, also training in Taekwondo and Tai Chi. Susan Smith attended workshops in Peaceful Warrior Training with Dan Millman, Barbara Brennan's "Hands of Light", Jin Shin Jyutsu and therapeutic touch. She is a Nia White Belt Instructor and creative arts instructor for both adults and children she was also a contributor to the book "Creating Time" by Marney Makridakis, nursing journals, and blogs.
All are welcome and this event is free of charge. Please, however, RSVP for the event at our website.