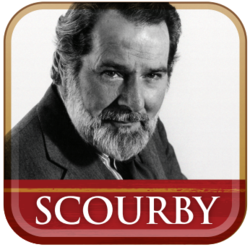 Alexander Scourby Rated Number 1 Audio Bible Narrator.
Los Angeles, CA (PRWEB) April 24, 2013
In a recent survey, users were asked to listen to audio bible samples from a number of audio Bible narrators which included, Alexander Scourby, Steven Stevens, Max McLean, Mike Kellogg, Charles Taylor, Red Jeffries, Eric Martin, Kelly Ryan Dolan, Todd Busteed and Steven Johnston. Users were then asked to select which narrator they liked the best. Eighty nine percent (89%) choose the narration of the King James Bible by Alexander Scourby as the best audio Bible narrator out of above list.
Some of the user's comments stated the following:
1. The Scourby voice was just very pleasant to and could be listened to for hours.
2. The Scourby read was done with easy and was like listening to a great story teller read with expression and meaning.
3. Listening to Scourby read all those unpronounceable words so effortlessly was just a real delight.
4. The Scourby read of the King James Bible was poetic and powerful.
The findings of the survey mirrored what the Chicago Tribune reported when they wrote that "Alexander Scourby has the greatest voice ever recorded and is the best audio book narrator in the world bar none".
Alexander Scourby was the first to record the King James Bible on long play records in 1944. After 68 years, his recording is still regarded as the Gold standard and still the very best narration on the market, as verified in the above survey report. In fact, Alexander Scourby is known as the "Voice of the Bible" among his peers. User can read Alexander Scourby's biography at http://scourby.com/scourby-bio.php.
The King James Bible was the first English Bible published in 1611and has been a best seller year every year since that time. Over the years many other Bible versions have been written, but it seems the original King James Bible is still regarded as the most accurate and poetic Bible on the market today.
So it is with the Alexander Scourby narration of the King James Bible, he was the first to narrator the "KJV Bible" in 1944 and although many others have narrated it the KJV Bible and other versions, snce that time, the Scourby narration is still regarded as the very best on the market today.
Litchfield Associates offers the Alexander Scourby audio Bible as a Bible Mp3 Download and as the all new Bimodal Audio Bible apps at scourby.com. Users can take an app tour and listen to Alexander Scourby narrate selected passages from the King James Bible. Users prospective users can then determine why Alexander Scourby was selected as the number 1 audio Bible narrator bar none.