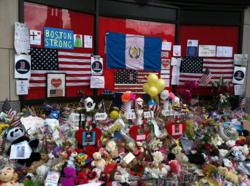 "Boston isn't a city, it's a family." -Chad Finn
Salem, NH (PRWEB) April 24, 2013
Cruise Travel Outlet of Salem, NH has created a website to collect donations for the Victims of the Boston tragedy which occurred on April 15, 2013. The name of one donor will be drawn on August 15th, 2013 for the prize of a cruise for two on Norwegian Cruise Lines. Four innocent lives were taken and over two hundred people were injured during this senseless tragedy. Please help support the victims and families affected. "I'm not surprised at the tremendous outpouring of support to help the victims, because that's who Boston is," said Bill Walsh President of Cruise Travel Outlet. "It hit very close to home, my family and I have stood at that finish line many times, it could have been any of us," Walsh added.
Cruise Travel Outlet is accepting donations via the website at http://www.BostonFundraiser.org. All proceeds from raffle ticket sales will be donated to 503c charities formed specifically to support the victims of the Boston Marathon Tragedy, such as onefundboston.org and other individual 503c charities set up for victims of the Boston tragedy.
After donating to this cause you will automatically be entered into a raffle. The prize being raffled off is a free seven-night Norwegian Cruise Line cruise for two compliments of Cruise Travel Outlet and Norwegian Cruise Lines. The winner of this raffle can chose any seven-night 2013 or 2014 Norwegian Cruise Line sailing departing from Boston, MA or New York City, including sailings on the brand new Norwegian Breakaway.