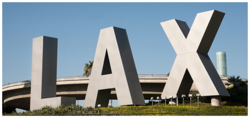 We pinpointed a high demand for quality private aircraft services on the west coast. In addition to consumer need, officially expanding our operations to Los Angeles also means an even better North American coverage
Los Angeles, CA (PRWEB) April 26, 2013
South Florida based SKYNET Aviation Group has expanded its private jet charter services to the greater Los Angeles area. SKYNET's decision to add the west coast as a key operating center will not only improve the company's ability to efficiently charter aircraft to any part of the country, but it will also make their world-class services available to an entirely new client base.
SKYNET Aviation Group's success as a private jet charter company has allowed them to expand the company's key operation points to include the west coast. Clients starting their trip from this new hub can expect all the impressive services that have solidified SKYNET as a world-class private aircraft charter company; in-flight catering, concierge services, a top-notch flight support team and ground transportation will all be available to SKYNET's Los Angeles private jet charter customers.
In addition to SKYNET's renowned private jet chartering, the company's industry leading aircraft management services will also be available to the aircraft owners in the Los Angeles area. SKYNET's detail-oriented aircraft management programs have earned them a reputation as true experts in the field. Aircraft owners and operators looking to reduce management costs may now consider opting their aircraft into SKYNET's partnered network.
With high demand and growing need for a truly impressive private aircraft charter service in the Los Angeles, California area, SKYNET Aviation Group is determined to provide unparalleled customized private travel service. Benjamin Head, managing director at SKYNET Aviation Group said: "We pinpointed a high demand for quality private aircraft services on the west coast. In addition to consumer need, officially expanding our operations to Los Angeles also means an even better North American coverage since we will now have key operation points on both coasts of the United States."
For more information about SKYNET Aviation Group, visit http://www.skynetwest.com.
For immediate assistance, contact SKYNET Los Angeles office: chartersalesLA(at)skynetag(dot)com.