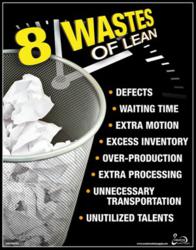 "We love the idea of reminding our employees of wastes that can cause our company to be less efficient and the poster does just that."
Lake Oswego, OR (PRWEB) April 29, 2013
To become a successful business in today's highly competitive market requires training among all employees and staff about lean methods. When a business focuses on reducing waste, they are beginning to take the first step to becoming lean. Creative Safety Supply is now offering a tool to help with educating employees about the 8 wastes of lean by providing a poster that defines each of these wastes – 8 Wastes of Lean Poster.
Lean programs and other related programs in the workplace target various components of creating a more efficient, less wasteful workflow within a facility. Benefits of creating a lean work environment includes higher profits, less overstock inventory, less accidents, less waste, among other things. The 8 wastes of lean are defined as: Over-Production, Waiting Time, Unnecessary Transportation, Extra Processing, Excess Inventory, Extra Motion, Defects, and Unutilized Talents. These ideas are reflected on a 22" x 28" poster that can be displayed upfront and in the face of every employee. The poster is a great tool for reminding employees and staff the elements of waste that can cause disorganization and inefficiency in the workplace.
Eliminating waste is the most effective way to increase profitability in manufacturing, administration, government, and service. Any activity adds either value or waste. A step is considered valuable when customers are willing to pay for it; all other steps are considered waste. The concept of waste and simple strategies to reduce waste will improve operating efficiency for a business and will add value for the customer.
A training coordinator commented, "We love the idea of reminding our employees of wastes that can cause our company to be less efficient and the poster does just that."
For more information about 8 Wastes of Lean Poster, please visit http://www.creativesafetysupply.com/8-wastes-of-lean-poster/ or call toll-free (866)777-1360 to speak with a professional representative.