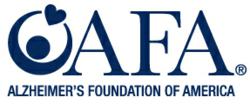 New York (PRWEB) April 24, 2013
The Alzheimer's Foundation of America (AFA), a leading national nonprofit organization dedicated to optimal care for people with Alzheimer's disease and their families, issued this statement to coincide with the United States Senate Special Committee on Aging's hearing today on "The National Plan to Address Alzheimer's Disease: Are We On Track to 2025?"
Statement by Carol Steinberg, acting chief executive officer of the Alzheimer's Foundation of America:
"The Alzheimer's Foundation of America (AFA) is grateful that the United States Senate Special Committee on Aging is focusing its lens on Alzheimer's disease—a horrific brain disease that unfortunately has come to define the current generation of aging baby boomers. Raising the visibility of Alzheimer's disease via this influential committee and before other Congressional forums helps validate the urgency of addressing and halting this public health crisis. It is a crisis hitting hard, without discrimination and without boundaries. And it must end.
"There is no doubt that we are beginning to make progress. Our nation is starting to chip away at barriers that prevent Americans from getting the care they need and the cure they deserve. President Obama's ongoing commitment, including a proposed $100 million increase in Alzheimer's disease research and care-related programs, and the release and planned update of the historic 'National Plan to Address Alzheimer's Disease' speak to these efforts.
"Now Congress must add its weight. It must reinforce its passage of the National Alzheimer's Project Act with funding to push it to the next level. Despite fiscal impediments, today's investment toward the goals contained in the national plan, toward a cure and care-related relief, will pay off multi-fold in cost savings to families, government and society.
"Increasing evidence points to the grim future of this disease state. A recent government-funded study estimated that the number of people with Alzheimer's disease will reach 13.8 million by 2050, a figure nearly triple the estimated 5.1 million people currently diagnosed with the disease. A new report by the RAND Corporation reveals that costs associated with dementia care range from $157 billion to $210 billion annually in the United States, surpassing direct care costs spent on heart disease or cancer care; moreover, national costs will more than double by 2040.
"While many of the national plan's initial strategies have been implemented or are underway, much more needs to be done. Given the massive scale of this chronic disease, research must be a priority and necessary resources must be dedicated if we are to advance, as the national plan states, toward preventing and effectively treating Alzheimer's disease by 2025.
"Focus must be equally given to resources that can help lift the practical, emotional and financial toll on family caregivers. As federal officials update the national plan, AFA urges additional provisions, including the expansion of publicly-funded "participant-directed" programs that would allow participants to hire family members as paid caregivers; federal tax credits for primary family caregivers; income tax deductions for out-of-pocket costs for long-term care services; greater access to government-funded home- and community-based care services such as adult day programs and diagnostic and care planning services; incentives for employers to adopt family-friendly workplace policies; and qualifying all people with Alzheimer's disease, regardless of age, for Medicare benefits and Administration on Aging programs.
"Researchers, organizations and individuals stand ready with commitment, passion and innovation. With funding, their resolve can get us to where our nation needs to go.
"AFA looks forward to working with Congress, the Administration and Alzheimer's disease stakeholders to ensure that increased Alzheimer's disease funding becomes a reality in FY2014 and moves us closer to attaining the ambitious yet essential goals of the 'National Plan to Address Alzheimer's Disease.'"
About Alzheimer's Foundation of America (AFA)
The Alzheimer's Foundation of America, based in New York, is a national non-profit organization that unites more than 1,600 member organizations nationwide with the goal of providing optimal care and services to individuals confronting dementia, and to their caregivers and families. Its services include a toll-free hot line, educational materials, a free quarterly magazine for caregivers, and professional training. For more information about AFA, call toll-free 866-232-8484, visit http://www.alzfdn.org, follow us on Twitter (@alzfdn), and "like" us on Facebook (facebook.com/AlzheimersFoundationofAmerica).