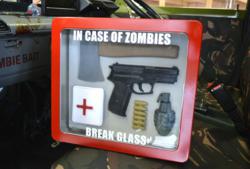 The Zombie Emergency Kit was a result of the countless e-mails and questions I had about the kit we designed for the Zombie Truck
(PRWEB) April 25, 2013
Zombied.com, a company devoted to premium zombie themed props and gifts has debuted their newest product, The Zombie Emergency Kit. The "in case of zombies break glass" themed kit is truly the ultimate zombie lovers collectable.
The product was inspired by the larger version found on the rear of the Zombie Truck, a uniquely themed zombie hunting and containment vehicle created in 2012 by the Haunted House Of Horrors, a haunted attraction based in Ontario, Canada. "The Zombie Emergency Kit was a result of the countless e-mails and questions I had about the kit we designed for the Zombie Truck, I knew that making a smaller, affordable version that was just as detailed would satisfy the cravings of diehard zombie fans around the world." says Shawn Gusz, the creator of the Zombie Truck and founder of Zombied.com
The zombie genre has "absolutely blown up" according to Gusz, stating partly due the success of the TV shows "The Walking Dead", and the plethora of modern day zombie movies that have been released in the last few years. In fact, "zombies" is now the most searched for horror related term according to Google Insights, which tracks most common keyword searches on its engine.
The kits are designed using cast resin components modeled after real "zombie killing" weapons. Each kit features a windowed red tin enclosure that resembles a fire hose case, cast resin handgun, bullets, hatchet, grenade, and zombie bite medical kit. The words "IN CASE OF ZOMBIES BREAK GLASS" are displayed predominantly on the windowed area of the enclosure.
The Zombie Emergency Kit Kickstarter campaign launched on April 24 and ends May 24. The creator has set a target funding goal of $20,000 to put the product into full production, if that target is met the first kits should start shipping at the end of July.
To back the Zombie Emergency Kit on Kickstarter and reserve your own visit http://www.kickstarter.com/projects/960839881/zombie-emergency-kit-in-case-of-zombies-break-glas