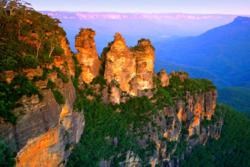 Sydney, Australia (PRWEB) April 25, 2013
For the past few years, Anderson's Tours has taken advantage of railways, skyways and cable cars to show tourists the beauty of the Blue Mountains. But, recently, Anderson's decided to offer tourists another, more natural tour to showcase the majesty of the Blue Mountains. This new tour doesn't rely on complex mechanical systems to navigate the dense forests and rocky landscapes; rather, it relies on something without weaved metal cords, carriages and control systems.
The new bush walking tour depends on the legs of its adventurists and their consummate desire to explore the Blue Mountains, unfettered by technology.
Perhaps the greatest thing about the new tour is the opportunity to see the same spectacles featured in Anderson's original day tour. Things like Featherdale Wildlife Park, Homebush Bay, the Waradah Aboriginal Centre and the verdant expansiveness of the Blue Mountain forest.
Another great feature of the new tour is placement. That is, the uncompromised placement of people's feet on the forest's floor. This ensures that tourists will never miss a beat in nature, whether it be a koala climbing a Eucalyptus tree, mother Kangaroo leading its children to water, or golden bell frog jumping across the trail.
Because Anderson's will soon have two tours – the bush walking tour and the original day tour – there will be more options for tourists to choose from. One day a group may choose to do the day tour and, a few weeks forward, may choose to do the bush walking tour. The option tourists choose will largely depend on if they want to ride the railway located in the mountains. In addition to offering more tour options, Anderson's will also welcome a wider range of people.
A group of people Anderson's hopes this new tour will attract is environmentalists and nature lovers – in other words, people who prefer nature void of modern refinements. Although many people appreciate riding railways, skyways and other transportation devices in the Blue Mountains, the fact is, some people don't. Some people prefer a more holistic approach to exploration.
Now, with the new Blue Mountain day tour offered by Anderson's, people who appreciate technology in nature, including those who don't, can experience Australia's Blue Mountains in all their glory.
Since the bush walking tour is new, more information will become available in the near future. To inquire about features, pricing and reservations, contact Lana Alegria at +61 2 9636 6111 or via email at lana(at)andersonstours(dot)com.au