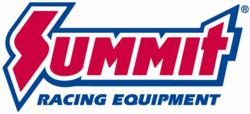 Tallmadge, OH (PRWEB) April 25, 2013
Summit Racing now offers these new products from Cragar, Nitto, and Yokohama:
Cragar Modern Muscle 617 Series Wheels
The classic Cragar five-spoke look for today's modern muscle—Mustangs, Camaros, and Dodge Chargers, Challengers, and Magnums. The 20 inch diameter wheels are available in polished aluminum, chrome, or matte gray.
Complete release and high resolution image
Nitto NT 555R Drag Radial Tire
Run the same street-legal drag radial used on the Summit Racing/Factory Five Mk4 Roadster. The NT 555R is DOT approved and provides impressive grip, control and handling. While primarily a drag tire, the NT 555R can deliver up to 15,000 miles of tread life for daily driving conditions.
Complete release and high resolution image
Yokohama Parada Spec-X Tire
The Parada Spec-X delivers increased cornering stability, excellent grip, and water evacuation. In fact, the Parada Spec-X is the tire of choice for Rutledge Wood's 1949 Step Van project. Most sizes are V speed-rated to 149 mph.
Complete release and high resolution image
Customers that buy a set of four wheels and tires from Summit Racing get free mounting and balancing with RFV (Radial Force Variation) testing. It includes press-on weights that won't damage wheels, rubber valve stems, and Summit Racing's exclusive Wheel & Tire Owner's Manual, which details proper installation and care of performance aftermarket wheels.
Summit Racing Equipment
SummitRacing.com
1-800-230-3030