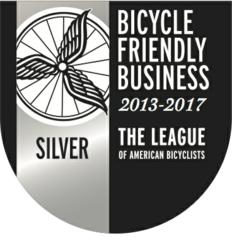 Washington, D.C. (PRWEB) April 24, 2013
In celebration of Earth Day this week, the League of American Bicyclists recognized the National Alliance for Hispanic Health (the Alliance) with a Silver Bicycle Friendly Business (BFB) award for leading America toward a greener future. With the announcement of 63 new BFBs today in 44 states and Washington, D.C., the Alliance joins a visionary group of more than 500 local businesses, government agencies and Fortune 500 companies across the United States that are transforming the American workplace, two wheels at a time.
"As the nation's leading Hispanic health advocacy group, being a bike friendly organization is part of our efforts to support all communities in making movement a daily part of our lives", said Dr. Jane Delgado, President and CEO of the Alliance. The Alliance encourages bicycling as a convenient and environmentally friendly transportation option for employees by providing amenities such as showers; secured bike parking; and, incentives including paid annual membership to the Capital Bikeshare program and the commuter tax benefit.
"More and more business leaders are realizing that bicycling is a simple and cost-effective way to move toward a more productive company," said Andy Clarke, President of the League of American Bicyclists. "Promoting healthy transportation is increasingly attractive to employers and prospective employees – and it's moving America toward a more sustainable future."
As a Bicycle Friendly Business, the Alliance has access to a variety of free tools and technical assistance from the League to become even more bicycle-friendly. To apply or learn more about the free BFB program, visit the League online at bikeleague.org/businesses
# # #
About the National Alliance for Hispanic Health (the Alliance)
The National Alliance for Hispanic Health is the nation's foremost source of information and trusted advocate for the health of Hispanics in the United States. The Alliance represents thousands of Hispanic health providers across the nation providing services to more than 15 million each year. For more information, visit http://www.hispanichealth.org or call the Alliance's toll-free Su Familia National Hispanic Family Health Helpline at 1-866-783-2645. Facebook: facebook.com/healthyamericas. Twitter: twitter.com/health4americas
About the Bicycle Friendly America Program
The Bicycle Friendly Community, Bicycle Friendly State, Bicycle Friendly Business and Bicycle Friendly University programs are generously supported by program partners Bikes Belong and Trek Bicycle. To learn more about building a Bicycle Friendly America, visit http://www.bikeleague.org/programs/bicyclefriendlyamerica/
The League of American Bicyclists promotes bicycling for fun, fitness and transportation, and works through advocacy and education for a bicycle-friendly America. The League represents the interests of America's 57 million bicyclists, including its 300,000 members and affiliates. For more information or to support the League, visit http://www.bikeleague.org.