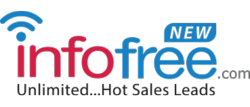 San Mateo, CA (PRWEB) April 24, 2013
infofree.com, the Home of Unlimited Sales Leads and Mailing Lists for only $49.95 per month, has just announced that it has added a new mailing list of 1 million doctors and physicians, available to its subscribers at no additional cost.
infofree.com is the only company in the industry to offer unlimited access to 15 million businesses, 220 million consumers, and dozens of specialty databases for the low price of only $49.95 per month or $449 per year. Thousands of sales professionals have already discovered the key to finding new customers and growing their businesses.
More than 1 million licensed doctors have been added to the Physicians database, which can be utilized by thousands of businesses and salespeople nationwide. These medical professionals are in need of the obvious pharmaceutical services, medical supplies, equipment, and uniforms, but considering the long hours they put in, are also ideal for offers pertaining to travel, credit cards, club memberships, entertainment, luxury goods, and much more.
"Our subscribers are excited about the new additions to our specialty databases, and coming soon we will be unveiling more lists to target niche markets such as Car Owners, Nurses, Insurance Agents, Stock Brokers, Dentists, and Retirees," says Vin Gupta, Founder of infofree.com.
To try infofree.com for 1 week for only $1, visit infofree.com/weektrial or call 877.448.0101.
About Us: infofree.com™ is revolutionizing the sales lead and mailing list industry by providing unlimited search, select, and view of over 14 million business records, 220 million consumers, and hundreds of other specialty databases for the low, flat price of only $49.95 per month or $449 per year. Reach new homeowners, new movers, newlyweds, new businesses, and more! The infofree.com content is compatible with the following platforms: Oracle CRM, Salesforce CRM, Microsoft CRM, Nutshell CRM, Goldmine CRM, Sage ACT! CRM, Highrise CRM, Zoho CRM, NetSuite CRM, SAP CRM, Constant Contact, RightNow Technologies, Responsys, Vertical Response, and Dun & Bradstreet.