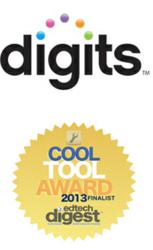 (PRWEB) April 25, 2013
digits, Pearson's interactive, fully Common Core aligned math program, is a finalist in the 2013 "Cool Tool" Awards from EdTech Digest. A distinguished panel of industry influencers and veterans recognized the middle grades digital curriculum in the Interactive Whiteboard Solution category.
EdTech Digest is an e-zine that features cool tools, in-depth interviews and notable trends in the education and technology space. The EdTech Digest "Cool Tools" Awards Program recognizes cool tools, trendsetters and leaders in the education and technology sector.
Written entirely to the Common Core State Standards, digits integrates lesson planning, homework management, intervention and assessment, all within a user-friendly design that encourages collaboration via interactive whiteboards. digits streamlines instruction through point-of-need resources that are intuitive for teachers, optimizing effective time on task, and allowing them to address the individual needs of every student – in and out of class. In addition to providing a customized learning path for each student, these efficiencies result in about twice as much instructional time for teachers, when compared with traditional middle school math courses.
digits engages middle grades math students with a constant focus on real-world-based learning – not only with the structure of the problems within, but also with "student guides." Called "Understanding by Design®* hosts," guides steer learners through each lesson in a humorous fashion and help deepen their understanding of mathematical concepts. These hosts pop up in videos embedded in the lessons where they use humor while explaining concepts to students.
Pearson topped the 2013 "Cool Tool" Awards from EdTech Digest with seven finalist honors. In addition to digits, Pearson's OpenClass earned honors in three categories: Product or Service, Emerging Technology Solution and Learning Management System. Pearson's Zeos was recognized in the Academic Gaming Solution category. Connections Academy co-founder, president and CEO, Barbara Dreyer, is a finalist in the Founder/CEO category and Nexus Academy from Connections Academy was named a Product or Service Setting a Trend.
Just last month, digits was one of 14 Pearson products named finalists in the prestigious Software and Information Industry Association's 2013 CODiE Awards. In addition, for the third consecutive year, Pearson led the 2012 Tech & Learning magazine Awards of Excellence competition, with honors for nine of its online and mobile learning tools and programs.
For more information about digits visit: http://www.digitsmath.com
About Pearson
Pearson, the world's leading learning company, has global reach and market-leading businesses in education, business information and consumer publishing (NYSE: PSO).
*Understanding by Design® and UbD™ are trademarks of ASCD®, and are used under license. For more information about the UbD™ Framework, visit ASCD's UbD™ resource page at http://www.ascd.org/research-a-topic/understanding-by-design-resources.aspx.