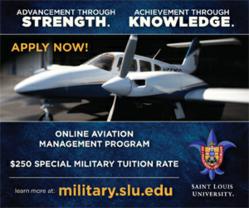 St. Louis, MO (PRWEB) April 24, 2013
The School for Professional Studies at Saint Louis University and Parks College of Engineering, Aviation and Technology will hold a free webinar highlighting its online Aviation Management program on Wednesday, May 8. This information session will be held from 5:30-6 p.m. (CST)
Attend this free, online information session to learn more about:

Top-ranked Saint Louis University
An overview of the online Aviation Management program
Accelerated 8-week courses
Affordable tuition including scholarships and financial aid
Military tuition rate of $250 rate per credit hour
The easy application process - there's still time to enroll for Summer & Fall terms!
For more information or to register for the webinar, visit busyadults.slu.edu or call (314) 977-2330 or (800) 734-6736.
Saint Louis University is one of only a few schools in the world with an online accredited Bachelor of Science in Aeronautics, Aviation Management concentration program. This online program equips students with a strong foundation of knowledge and business discipline for real-world application in the aviation industry, delivered by the same highly qualified research-driven faculty who teach in the traditional classroom. Combining world-class education with online flexibility, this program is designed to meet the particular needs of military service members, veterans and professionals who require a virtual learning environment.