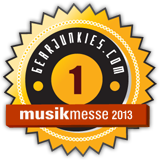 This is definitely Gearjunkie stuff. The Beamz Pro controller wins our DJ Gear category award.
Scottsdale, Arizona (PRWEB) April 24, 2013
Beamz Interactive, Inc. (OTCQB: BZIC), a music product and technology company, announces they have brought home Gearjunkies' coveted DJ Gear Category Award given at the well-attended Musikmesse 2013, in Frankfurt, Germany.
From Gearjunkies, "Beamz Pro—Listen to this, a laser guided DJ controller and generic MIDI-controller for around 200 dollars, nice right? We think it's fun! This is definitely Gearjunkie stuff. The Beamz Pro controller wins our DJ Gear category award."
At Musikmesse Beamz showcased the release of a new specially compiled version of Virtual DJ LE. The new version includes a plug-in for the Virtual DJ mixing software to natively communicate with the Beamz Pro laser controller. It also features a unique dashboard skin that mirrors the design of the Beamz controller and its laser beams as triggers.
Al Ingallinera, Jr., Beamz VP stated, "Beamz collaboration with Virtual DJ was very well received. DJs really understood the new opportunities they'll have for expressing their own unique creativity and artistry using Beamz Pro. And to win the Best DJ Gear Category, well that really cemented the success of the show."
Learn more about Beamz Pro by visiting the web site.
About Beamz
Based in Scottsdale, AZ, Beamz Interactive, Inc. (http://www.thebeamz.com) has created a new interactive laser controller technology that can be used to develop new market opportunities in a wide variety of music, game, therapy and consumer applications. In its first application, the Company developed an innovative new music technology and product offering that brings music to literally everyone in a manner that has previously not been possible. Beamz allows people that have no musical background or training to play and enjoy music within minutes, yet it has the depth to enable accomplished DJs, artists and musicians to perform, compose and create very sophisticated interactive music. Beamz Interactive's technology portfolio includes multiple patents, patents pending and trade secrets covering interactive music, software, laser-based controllers, gaming applications and related designs and devices.
About Gearjunkies
Gearjunkies is a group dedicated to gear enthusiasts, people who love to play with gear for electronic music production and DJ-ing. The idea for Gearjunkies was born in 2002 by a group of three gear enthusiasts who in 2003 wanted to create information archives related to everything DJ Gear, for everyone to be able to access and share. Gearjunkies is constantly developing its platform by updating the databases, publishing the latest news and scoops, creating new services and enabling more and more interactive services.
###
Cautionary Note Regarding Forward-Looking Statements
This press release contains, and our officers and representatives may from time to time make, "forward-looking statements" within the meaning of the safe harbor provisions of the U.S. Private Securities Litigation Reform Act of 1995. Forward-looking statements can be identified by words such as: " anticipate," "intend," "plan," "goal," "seek," "believe," "project," "estimate," "expect," "strategy," "future," "likely," "may," "should," "will," and similar references to future periods. Examples of forward-looking statements include, among others, statements we make regarding: expected operating results, such as revenue growth and earnings; anticipated levels of capital expenditures; strategy for customer retention, growth, product development, market position, financial results and reserves; and strategy for risk management.
Forward-looking statements are based only on our current beliefs, expectations and assumptions regarding the future of our business, future plans and strategies, projections, anticipated events and trends, the economy and other future conditions. Because forward-looking statements relate to the future, they are subject to inherent uncertainties, risks and changes in circumstances that are difficult to predict and many of which are outside of our control. Our actual results and financial condition may differ materially from those indicated in the forward-looking statements. Therefore, you should not rely on any of these forward-looking statements. Important factors that could cause our actual results and financial condition to differ materially from those indicated in the forward-looking statements include, among others: Economic and financial conditions, including volatility in interest and exchange rates, commodity and equity prices and the value of financial assets; volatility in the capital or credit markets; technological developments or other changes that affect customer demand.
Any forward-looking statement made by us in this press release is based only on information currently available to us and speaks only as of the date on which it is made. We undertake no obligation to publicly update any forward-looking statement, whether written or oral, that may be made from time to time, whether as a result of new information, future developments or otherwise.