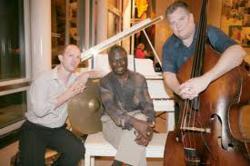 "Listen to the mesmeris swing of the John A Lewis Trio" Pianist/singer/songwriter
Melini Skybell
Dallas, Texas (PRWEB) April 25, 2013
The Dallas-bassed John A. Lewis Trio will be Performing a two-hour presentation of music from their critically acclaimed recording "Progenation" and jazz Standards at the Broadway Bistro Restaurant located at 1101 s Broadway St Saturday April 27th 2:30 until 4:30. This Performance will be part of the Carrollton Jazz on the Square Festival in celebration of DJAM( Dallas Jazz Appreciation Month).
The Trio will consist of composer/pianist and leader John A. Lewis, drummer Merik Gillett and bassist Jeff Pickering, who is subbing for regular bassist Lincoln Apeland. Jeff is also president of Valarteri Records. The Trio's record label.
The Trio has been together for over three years. They have performed in concert at such venues as The Sammons center of the Arts, The Dallas Museum of the Arts and the Sandaga 813 Music Emporium, plus restaurants and clubs throughout the Dallas Ft. Worth area.
The Trio's repertoire consist of straight ahead jazz, bossa and latin tinged tunes and also odd meter tunes.There is a presence of chromaticism and bitonality in their music. The Trio presents their music with a unique mesmeric swing that has an edge.
You can check out the activities of the John A. Lewis Trio on Facebook and Twitter and visit the John A. Lewis website at johnalewisjazz.com. And you purchase the Trio's recordings and other recordings by John A Lewis at CD Baby.com