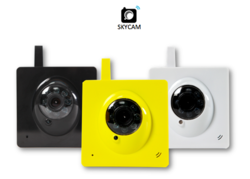 So, I integrated a well-known and trusted video service (Skype) with a wireless camera, then decided to head to Indiegogo for help crowdfunding my project
Charlotte, NC (PRWEB) April 24, 2013
SKYCAM is a one-of-a-kind wireless camera that is the perfect combination of security camera and baby monitor in one. This user-friendly IP camera allows owners to keep watch via Skype on their smartphone or PC while away. Currently, SKYCAM has launched on a crowdfunding website, Indiegogo, to raise funds to mass produce this wireless video camera.
This wireless video camera is unlike any on the market. While many wireless cameras require a long and complicated process to set up, SKYCAM is quick to set up with four easy steps. The main differentiator between SKYCAM and any other IP wireless camera is that the video is streamed directly through Skype. This means no DNS fees, no slow connections, and no low quality video conferences. SKYCAM also offers users the ability to access their wireless video camera right from their smartphone, tablet, or PC via the Skype app.
"I wanted to give people a reliable, uncomplicated, and wallet-friendly wireless video camera option," says SKYCAM founder Roger Yiu. "So, I integrated a well-known and trusted video service (Skype) with a wireless camera, then decided to head to Indiegogo for help crowdfunding my project."
With 35 days left in its Indiegogo campaign, SKYCAM has turned to digital agency, Command Partners, to help it raise the $50,000 goal. While Yiu works on the logistics of taking SKYCAM to mass production, Command Partners will focus on marketing this unique wireless video camera, and gaining awareness for the campaign.
"The team and I excited to work with Yiu on SKYCAM's Indiegogo campaign," says Roy Morejon, owner of Command Partners. "This revolutionary IP camera is the next generation of video monitoring, surveillance, and conferencing devices. We're expecting a successful Indiegogo campaign for SKYCAM."
Command Partners will apply their past experience working with technology crowdfunding projects to create a comprehensive plan to build awareness, and gain backers for SKYCAM. Using tools in their arsenal such as social media management, press release writing and distribution, media relations, and more, the experts at Command Partners will work hard to help Yiu reach his Indiegogo goals, and make SKYCAM a success.
To learn more about this revolutionary wireless video camera, visit the SKYCAM Indiegogo page http://bit.ly/SKYCAMINDIE. By pledging only $99 before Tuesday, May 28th at 11:59pm, backers can receive their very own SKYCAM or a variety of other perks. Also, connect with SKYCAM on Facebook and Twitter @mySKYCAM.
About SKYCAM
SKYCAM is a revolutionary wireless video camera for the 22nd century from founder Roger Yiu. SKYCAM is the first IP camera that uses popular video conferencing platform, Skype, as its DNS server. This means owners can count on high quality video, fast connections, and no monthly fees. Through Skype, users can monitor their home, office, and more directly from a smartphone, tablet, or PC from anywhere at anytime. For only $99, backers can purchase their very own SKYCAM via Indiegogo. To learn more about SKYCAM, head to the Indiegogo page http://bit.ly/SKYCAMINDIE, and be sure to connect on Facebook and Twitter @mySKYCAM.
About Roger Yiu
Roger Yiu graduated with a degree in Economics and Electrical Engineering from the University of California, San Diego (Jacob School of Engineering). He has past experience in product development and working on consumer electronics. Yiu enjoys developing innovative Smart products and Internet devices. Connect with Yiu on his website and on LinkedIn.
About Command Partners
Command Partners is a digital media agency that focuses on driving online visibility and lead generation including social media marketing, search engine optimization, public relations and strategic advisory services. Command Partners works with clients ranging from high-tech startups and e-commerce brands to Fortune 500 companies. The agency is located in Charlotte, North Carolina and works with clients around the globe.
For more information on Command Partners' services, visit http://www.commandpartners.com, Follow them on Twitter @CommandPartners and Like them on Facebook.