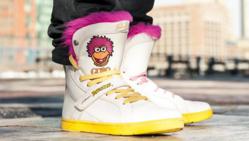 Only 50 lucky Fraggle Rock and Heyday fans across the world will be dancing their cares away in the exclusive Gobo Super Shift sneaker, available only at HeydayFootwear.com.
Framingham, MA (PRWEB) April 25, 2013
Heyday Footwear and Jim Henson's Fraggle Rock have collaborated on the completely insane and unique Heyday Footwear Fraggle Rock 30th Anniversary Collection. The first style to be released is the Gobo Super Shift, featuring the lead Fraggles' likeness on the fashion forward, white high top sneaker and a shock of hot pink "fur" popping out of the tongue.
Worldwide production is limited to just 50 pairs of this first release, ensuring instant collectors edition status for the lucky few who grab them up. Available directly from the brand for $125, the Heyday Footwear Gobo Super Shift delivers the first week of May as part of Heyday Footwear's 5 style Spring 2013 Collection.
About Heyday Footwear
Heyday Footwear is the design driven, direct to consumer lifestyle brand for the fresh, young and wired taste makers worldwide who share our passion to stand out from the crowd, whether on the street, in the board room or on the dance floor. Founded in 2006 by footwear industry veteran designer Darin Hager, Heyday continuously breaks new ground not only with its design driven footwear for men and women, but in the worlds of vertical e-commerce, product placement, licensing, entrepreneurship and brand building. Heyday is available ONLY from HeydayFootwear.com and not in stores.