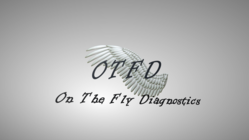 Constantly adapting to automotive technology to help you succeed
(PRWEB) April 30, 2013
In the automotive repair industry, there are many technicians and businesses that offer a service to shops and dealerships alike. However, when considering automotive diagnostic and programming needs for the industry, many of these technicians are not equipped properly. For example, some higher end cars can have as many as eighty computers for various purposes. Not only is the equipment that is needed to properly diagnose these computers rare, but it is also expensive. Vehicle programmers have become a new specialty position that cannot be omitted. So how do these shops find technicians or businesses that can accommodate their evolving needs? On The Fly Diagnostics is the answer, and with its new wing logo, is now easier to find than ever.
On The Fly Diagnostics understands both the technical aspects of automotive programming and the needs of businesses to save time and establish growth. Specializing in, but not limited to, automotive vehicle programming, On the Fly Diagnostics will travel to the location of the business and accurately diagnose the needs of the client. The company will take an approach to make sure that vehicles of the clients of the dealerships and shops will be treated with a standard that will ensure repeat business. One of the technicians of On The Fly Diagnostics said, "Cleanliness and respect for the clients' vehicles is part of the service." Many businesses have already appreciated the standards and practices of On The Fly Diagnostics to where they are coming back for their programming and other automotive needs. The entity has the view that reoccurring circulation is necessary to benefit the entire populous as a whole.
With its knowledge it brings both over eight years of programming experience, and over ten years of general automotive wisdom to the industry. On The Fly Diagnostics uses state-of-the-art equipment, and constant education to best serve the industry. A spokesperson for the company said, " We are constantly adapting to automotive technology to help you succeed."
On The Fly Diagnostics, LLC is the only mobile diagnostic and programming company that specializes in European vehicles. The company was established to help shop owners and dealerships keep customers in their bays and stay in touch with the constant change in technology without the hassle of calling a tow truck. For more information, please visit http://www.ontheflydiagnostics.com/.