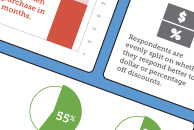 69% of all respondents used an online coupon when making a purchase in the last 12 months.
Denver, CO (PRWEB) April 26, 2013
A proprietary study, conducted by ClearVoice Research in April 2013 on behalf of eAccountable and ChannelAdvisor, showed that based on consumers' online shopping behaviors, retailers can help guide consumers to stay on their websites using a variety of deal-related tactics and reduce cart abandonment.
Designed as a follow-up to a previous research study conducted by eAccountable in December 2012 that showed 69% of shoppers used an online coupon when making a purchase in the last 12 months, this study's respondents were limited to those who affirmed they had used such a coupon. The survey was conducted online among 1,500 respondents that were split 50:50 male and female.
"We wanted to be part of this research to learn more about the value of coupons in the affiliate channel in order to better serve our e-commerce customers and the questions they have about working with coupon, deal and cashback website publishers," said Link Walls, vice president of Product Management at ChannelAdvisor. "The results are interesting and certainly something for retailers to keep in mind when building their e-commerce and advertising strategies."
Based on the survey results, retailers should offer deals on their websites to in order to better guide consumer behavior.
Key findings show that:
If respondents are not offered a discount by a retailer, 68% will leave to search for a discount online.
This percentage drops to 45% if a retailer DOES offer a discount. An upfront discount can keep an additional 23% of consumers in a retailer's conversion funnel.
When respondents leave to search for a retailer discount, 65% visit a cashback or coupon site.
Only 70% of those searching are likely to return to a retailer's site regardless of finding a discount, meaning 30% become an abandonment risk.
Other findings from the survey show that retailers can save money by presenting dollar off, instead of percentage off, deals:
The respondents are evenly split on whether they respond better to dollar or percentage off discounts.
However, given a $100 purchase, 40% of respondents would purchase with a $5 - $10 discount, while only 25% would purchase with 5% - 10% off.
Given the average online order size is $113; retailers clearly can save with a dollar off discount while still being attractive to purchasers.
With mobile becoming a crucial part of the shopping equation, retailers must move cautiously to engage with consumers and promote deals when using text messages.
55% of respondents are NOT willing to receive a text message discount from a preferred retail source.
57% are NOT willing to receive a text message discount from a cashback or coupon website.
60% are NOT willing to receive a text message discount any time they are close to a specified retailer's brick-and-mortar store.
Of those willing to receive text messages, 69% are willing to receive shipping notification/tracking information for an order.
"At eAccountable we are focused on helping our clients using research as a key tool for insights into online consumer behavior and then providing recommendations that provide guidance for successful growth to merchants as well as the affiliate channel," said Durk Price, founder and CEO of eAccountable.
Some of the recommendations for retailers based on this survey include:
Retailers should offer deals on their site to increase conversion rates and help prevent consumers from leaving their website to find discounts.
Having a presence on cashback and coupon sites is necessary for retailers, as these websites are favored by consumers when they do leave a site to search for a discount.
Retailers can save money by presenting dollar off, instead of percentage off, deals.
Consumers are still leery of giving their cell phone number out to receive discount information, so retailers should promote deals via text messages cautiously and only send significant offers or shipping notifications.
To download the complete survey results go to: http://www.eaccountableopm.com/research-results/.
About ChannelAdvisor
ChannelAdvisor is a leading provider of cloud-based e-commerce solutions that enable retailers and manufacturers to integrate, manage and optimize their merchandise sales across hundreds of online channels including Amazon, Google, eBay, Facebook and more. Through automation, analytics and optimization, ChannelAdvisor customers can leverage a single inventory feed to more efficiently list and advertise products online, and connect with shoppers to increase sales. Billions of dollars in merchandise value are driven through ChannelAdvisor's platform every year, and thousands of customers use ChannelAdvisor's solutions to help grow their businesses.
About eAccountable
eAccountable is a digital performance agency specializing in retail representation and provides outsourced program management services (OPM) for numerous Internet Retailer Top 500 merchants eAccountable provides the latest online tools for helping Advertisers manage their online marketing efforts: affiliate, social, mobile, email, research, retargeting, pay-per-call and more.
Attending the ChannelAdvisor Catalyst Event April 29- May 1st? eAccountable will be there. Catch us in booth #30 in the exhibit hall. The eAccountable team will be in our booth conducting consumer surveys on demand. Let us explain. When people come to our booth they can ask us a survey question and have responses to that question from between 100 to 200 consumers in less than an hour. Cool, huh? We'll also post each question asked and the response on big board in our booth.