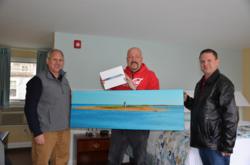 It was important to us to have the local art community represented in our hotel and we felt this was a great way to do this. -Eric Shapiro, Owner
Provincetown, MA (PRWEB) April 26, 2013
The Cape Colony Inn recently announced the winners for its photography contest, which ran over the past month and received hundreds of submission from local artists and photographers around the region. Over 50 artists contributed their works which featured scenes of some of the most beautiful aspects of Provincetown and the Outer Cape such as beaches, town living, and animal life.
The winning artist, Daniel McKeon, was the grateful recipient of a new Apple iPad as well as a check for $300. His piece will be featured prominently in the lobby of the hotel to greet guests throughout the season. Daniel is a local Provincetown resident that has been active in the local art scene for many years.
All other winners will have their works featured throughout the 57 rooms of the hotel on canvases in full color. These artists received a $200 gift certificate to Cape Colony Inn as well as a $50 gift certificate to a local restaurant in Provincetown. The list of other winners includes Judith Gardner, Sally Brophy, Ellen Koplow, Kevin O'Toole, Patrick Eleey, Cheryl MacKenzie, Amy Howell, Ronna Hoffman, Mark McGrath, Brian Powers, Doug Scott, April Silva, Scott Powell, Jane Oglivie, Rick Branscomb, Gail Behrik, The Dune Tramp, Edith Rawley, Joe Gallagher, Peter Schaible, Daniel McKeon, Nancy Bloom, Maxwell Shapiro, Benjamin Casper, Nancy Marshall, and Mariellen Sereina.
"It was wonderful to see all the submissions for this contest – from all over the region and featuring all of the great aspects of The Outer Cape. It was important to us to have the local art community represented in our hotel and we felt this was a great way to do this. I am looking forward to having these outstanding and unique pieces of art hanging in our newly renovated guest rooms this season." – Eric Shapiro, Owner.
About Cape Colony Inn
Cape Colony Inn is a 57 room inn located in the gallery district of Provincetown, Massachusetts. It opens its doors for the 2013 Season fresh from an elaborate renovation including new lobby and guest areas, improved landscaped grounds, and renovated rooms. The new rooms feature flat screen televisions, Simmons Beautyrest Pillowtop mattresses,triple sheeting, refrigerators, fresh paint and linens, Keurig Brewing Machines, and Pacific Coast Pillows. With onsite amenities such as a heated pool, shuffleboard, parking, and close proximity to all of the local attractions, it is the perfect vacation destination.
For more information or reservations, please visit http://www.capecolonyinn.com. For comment on this photo contest, please contact Eric Shapiro at 978.862.0136 or at eshapiro(at)lexvest(dot)com.