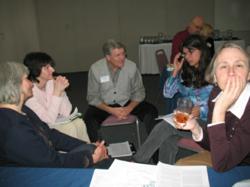 "The training feels very individualized and very mindful of making sure everyone gets something out of it," said a previous participant.
Ellsworth, Maine (PRWEB) April 24, 2013
Registration is now open for Motivational Interviewing training sponsored by the Acadia Family Center. The workshop, which takes place at the Ellsworth City Hall on June 18, 2013 and begins at 9:00 a.m., is designed for teachers, childcare providers, counselors, social worker, health care providers, probation or parole officers, and anyone who works with people who help others make progress towards positive change in their lives. The workshop is $100, which includes lunch. Continuing education units are available for this course.
Motivational Interviewing is a highly researched, very successful approach to working with people who are resistant to change. This method is founded in the belief that individuals are the experts in their own lives, and that with guidance, respect and support they will come to their own solutions. Motivational Interviewing helps move people from a place of frustration to a place of personal mastery and control.
Acadia Family Center senior clinician Kip Young, LADC, is a certified trainer in both Resiliency and Motivational Interviewing. The workshop is interactive training and introduces the concepts, research, and principals of Motivational Interviewing to educators and social service providers. "Motivational interviewing is an inherently respectful way to work with clients who are resistant to change. I have found that applying these principles creates a deeper, richer, more meaningful experience for the people I work with," Kip says.
Acadia Family Center is pleased to offer the workshop again. Previous workshops have received rave reviews from participants. "The training feels very individualized and very mindful of making sure everyone gets something out of it," said a participant at last year's training. To register for the workshop, please call 207-244-4012 or go online: http://www.acadiafamilycenter.org/calendar.html.
Acadia Family Center is a community resource for recovery and substance use prevention in Hancock and Washington Counties in Maine. Its services encompass substance use prevention, outpatient treatment, and community outreach education that are rooted in resilience and nurtured by compassion, collaboration and community.