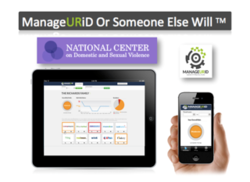 87% of those surveyed believe the sale of their personal information threatens their physical and financial security
Great Falls, VA (PRWEB) April 25, 2013
ManageURiD, a personal privacy protection company, today announced it has launched a fund raising campaign through Indiegogo, the leading international crowd funding platform; and, in connection with the campaign, will donate its ManageURiDProtect service to victims of domestic and sexual violence.
The company is seeking funding to accelerate the broad distribution of its new personal privacy protection service: MangeURiDProtect. ManageURiDProtect enhances personal privacy and improves physical and financial security by dynamically instructing the removal of personal information from unauthorized sites and sites that sell personal data, and opting subscribers out of unwanted services. Coincident with the campaign, ManageURiD is collaborating with the National Center on Domestic and Sexual Violence (NCDSV) to manage the allocation of services ManageURiD donates to victims of domestic and sexual violence.
For every Indiegogo contribution the company receives, in addition to providing the ManageURiDProtect service to the contributor, ManageURiD will donate an equivalent level of service to a victim or victims at no charge. Click Here for more information about the campaign.
Jack Reis, Founding Partner of ManageURiD, said, "With the near constant use of the Internet and smart phone technologies today, for personal privacy, physical and financial security reasons, it is critically important that everyone be more aware of what information is being compiled about them, by whom, and how that information is being used. This is especially true for the unfortunate victims of domestic abuse who are trying to rebuild their lives. We formed ManageURiD and developed ManageURiDProtect to empower everyone to regain control over the amount and type of their personal information that is being compiled and sold without their knowledge. We are thrilled to be in a position to donate our services and to be working with NCDSV to further the cause of public safety and awareness."
For a free risk assessment and to learn more about ManageURiDProtect and the Indiegogo campaign Click Here, visit the company's pre-launch website at http://www.manageurid.com or call 1-877-331-8441.
About ManageURiD. ManageURiD is a personal privacy protection company with decades of information security and proper management of sensitive consumer data experience. The company was founded by Jack Reis and Todd Drake and is headquartered in Northern Virginia.