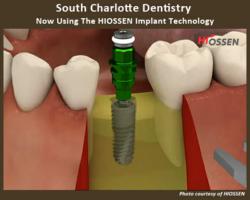 Charlotte, North Carolina (PRWEB) April 26, 2013
There is exciting news for patients in Charlotte, NC awaiting implant surgery. South Charlotte Dentistry has purchased the first Hiossen Implant Kit in the area. Dr. James Wells and his team have trained on using this new type of implant drill and are thrilled to offer a more successful implant program.
There are two main risk factors for dental implants. The first is dental implant infections which are presently impossible to completely eliminate in all cases. Infections are rare but using today's science is still a possibility with any surgery.
The second risk with dental implants is complications due to unsteady implantation. Prior to this new technology, dentists had to rely on skill and drill stoppers to gage the depth of a bore into the bone. If the drill bit moved side-to-side, or penetrated too far the result was an unsteady implant. Additionally, going too deep into the bone often resulted in nerve damage.
Now there is a drill by Hiossen that auto stops at the exact depth required and eliminates drilling error. Dr. Wells is the first to try the new equipment in the Charlotte area and is thus far delighted with the results. Dr. Wells said, "We are dedicated to eliminating as much risk with our dental procedures as possible. The new equipment and training are definitely worth the investment. We want to be known as the safest implant specialist in the Carolinas."
Getting a precise fit for an implant expedites the healing process and creates a solid implant structure. It significantly decreases implant breakage, infection, osseointegration issues, tissue loss, bone loss and nerve damage.
For patients interested in the exact procedure using this new technology, there is a good video on Youtube that illustrates the use of the new type of permanent stopper.
For patient testimonials and more information regarding successful dental implants in Charlotte, North Carolina, follow the South Charlotte Dentistry Blog for updates and pictures.