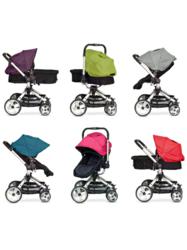 JJ Cole Broadway Stroller offer a variety of positions!
West Des Moines, Iowa (PRWEB) April 25, 2013
Bliss Baby & Maternity is now carrying the JJ Cole Broadway Stroller. Yes, JJ Cole has a stroller in addition to their Diaper Bags and other great products. The Broadway Stroller is a toddler seat, a pram, and a travel system in one.
The Broadway Stroller fits a newborn to a child up to 50 pounds, so it can easily be used for many years as a child grows. The stroller has a padded, adjustable five-point harness and the buckle is very simple to open. The seat is at a 90 degree angle and has a nice comfortable seat for a relaxed ride. The seat will lie all the way back, so it is great for a child when a nap is needed.
The stroller can convert into a bassinet for a newborn baby, which is great when traveling or shopping with a newborn. The bassinet is easy to use and just a couple of quick straps that need to be unclipped and there is instantly a bassinet. There is a harness, so the baby is safe and secure and there is also a newborn padding insert which makes is extra soft.
The canopy is nice and large with three panels to fully cover the baby. The stroller comes in black but if a splash of color is what is needed, the canopy comes in different colors.
One of the most exciting features is the twist and spin feature. Unlike other strollers, the JJ Cole Broadway stroller lets you lift the chair and turn it around all while the child is still in the stroller. JJ Cole has done a great job with the creation of the stroller and it has some great features.
Find this stroller and other great JJ Cole products at http://www.blissbabyandmaternity.com.