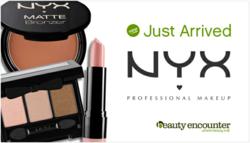 Fountain Valley, CA (PRWEB) April 25, 2013
Beauty Encounter (BeautyEncounter.com) has just announced the addition of NYX Cosmetics to its already vast range of men's and women's cosmetics, discount fragrances, skincare and hair care products, and beauty accessories. Beauty Encounter is where to buy NYX cosmetics for beauty lovers on a budget.
As a beauty lover's cult brand, NYX Cosmetics are a natural fit among the high quality designer products that Beauty Encounter already has to offer. Highly rated and loved by makeup artists, this brand is well known for providing professional quality products with youthful fun and is also very inexpensive. With more than 384 SKUs and best selling products, makeup pros can find the full line of professional NYX Cosmetics, through the premier online super-boutique.
All of the top NYX Cosmetics products are being offered at the Beauty Encounter website, including the exceptionally popular NYX Matte Lipstick, the 2012 Allure award-winning Matte Bronzer, the NYX Wonder Pencil, the Soft Matte Lip Cream, and the Curve Eyeliner from the fall 2012 Glam Collection (as seen featured in Life & Style Magazine and the NY Times, among others).
Among the other highly popular designer brands that are available at BeautyEncounter.com are Dolce & Gabbana, Obagi, Chanel, and Gucci. There are more than 40,000 products in the company inventory, from over 1,100 different brands, each of which is 100 percent authentic. The company deals only with the most highly trusted suppliers and venders who purchase their product directly from the distributor or manufacturer. Every product is carefully inspected for quality and to ensure that it is genuine.
Beauty Encounter has been providing genuine, high quality designer products since 1999 as both a retailer and wholesaler. For nearly a decade and a half, it has made every effort to ensure that its customers can purchase all their favorite designer, mass, and salon quality beauty products and cosmetics with confidence and at competitive prices. As one of the largest online beauty retailers, it boasts a strong and ever-growing loyal customer base made up of industry professionals and beauty mavens, alike.
For more information about the addition of NYC Cosmetics to the Beauty Encounter offerings, visit http://www.beautyencounter.com/brand/nyx-cosmetics/55683/0, or to learn about the full range of available genuine high quality designer beauty products, visit the official company website at: http://www.beautyencounter.com.