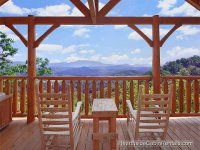 A family vacation at Hearthside is a great experience, and full of fantastic family memories
PIGEON FORGE, TN (PRWEB) April 24, 2013
Have more fun this summer, and let Hearthside Cabin Rentals, located in the heart of the Great Smoky Mountains, take all the hassle out of planning this year's family vacation. Hearthside Cabin Rentals, the premier provider of cabin resorts in Pigeon Forge and Gatlinburg, Tenn., offers guests exclusive discounts and monthly specials to make sure each visit is fun and affordable.
The Freedom Fun Pass, a $180 value, offers one free admission each night of your trip to top attractions in Pigeon Forge and Gatlinburg areas including Adventure Ziplines, Cirque de Chine and Ripley's Aquarium of the Smokies.
"The Freedom Fun Pass is our gift to you, and our way of saying 'thank you' for staying at Hearthside Cabin Rentals," said Duke Blevins, General Manager for Hearthside Cabin Rentals.
Guests staying in either the Pigeon Forge or Gatlinburg cabins managed by Hearthside Cabin Rentals enjoy the benefits of flexible floor plans, spacious kitchens and dining rooms and pet friendly cabin accommodations.
Cabin sizes range from one to 16 bedrooms with private baths. Each rental offers large windows, high ceilings and free-flowing areas, great for families, church groups and even couples planning their weddings in Gatlinburg with the scenic mountain backdrop.
For larger sized cabins, Hearthside Cabin Rentals offers assistance with ticket information, special needs and even grocery deliveries to ensure a worry-free vacation.
"A family vacation at Hearthside is a great experience, and full of fantastic family memories," said Blevins.
Having trouble deciding which cabin size is best for your family? Hearthside Cabin Rentals offers future guests a Gatlinburg cabin search to help determine what size and accommodations meet their future needs.
Hearthside Cabin Rentals and Property Management offers a variety of cabins in Gatlinburg, Pigeon Forge and Sevierville, Tenn. Hearthside Cabin Rentals has been family owned and operated, calling the Smoky Mountains home since 2003. Along with their 25 employees, owners Daniel and Janice McAllister work to ensure guests feel more like family than customers. All offices are located at 702 Wears Valley Road, Pigeon Forge, Tenn., and are open Monday- Friday 9 a.m.- 9 p.m. and Saturday-Sunday 9 a.m.- 8 p.m. For additional information, or to reserve a cabin, visit their website at http://www.hearthsidecabinrentals.com, or contact Hearthside Cabin Rentals by phone at 1(888) 993-7655 or email hearthsidecabinrentals(at)yahoo(dot)com.