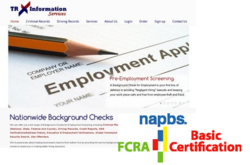 "We can all agree that identity theft is a national security Issue but employers do not realize that they can be sued up to $6,500 by the true owner of a SSN if they accept an application with a fraudulent SSN." Todd Mayers, Marketing Director
(PRWEB) April 26, 2013
TR Information Services and http://www.fullsearch.com is proud to announce Consent Based Social Security Verification (CBSV) service.
CBSV can be used for all business purposes and compliance requirements including Employment (both pre-hire and post-hire to confirm an authorized workforce) as well as verification of any other type of applicant such as Tenants, Customers, Clients, Members, Volunteers, Patients and Students.
While the Social Security Administration offers a CBSV database, they charge a non-refundable $5,000 deposit to access it. TR Information Services background check service has absorbed that cost to make this a viable and indispensable option for every small business – at only $5.75 per request.
In October of 2012 the Office of U.S. Inspector General reported 5% of CBSV search results returned a "No Match--Unsuccessful" result which means that 1 out of every 20 applicants were not who they said they were.
Through TR Information Services and its online background check web site, CBSV is the foremost fraud prevention tool to safeguard companies by mitigating fraud and identity theft along with reducing risks and shielding losses. The information obtained is directly from the Social Security Administration and is data updated daily.
TR Information Services looking forward to many more years of helping businesses that need Background Checks and driving records by continuing to provide complete, accurate, innovated and cost effective solutions for businesses.
About
Since 1994, TR Information Services has been offering full service pre-employment screening background checks including, but not limited to, Criminal Records, SSN Verifications, Employment/Education Verification Credit Reports and Driving Records. TR Information Services is also a proud member of the The National Association of Professional Background Screeners (NAPBS).