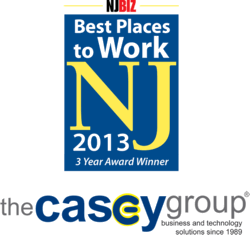 "...the people and the company behind the technology are as important as the technology itself."
(PRWEB) April 29, 2013
"While we at The Casey Group are all very excited and proud to be named a Best Place to Work in NJ in 2013, winning this award three years in a row is an acknowledgement and affirmation that we have created an enduring company culture and environment that fosters teamwork and innovation," said Richard Casey, company founder and chairman.
"More importantly, it is very gratifying to know that at The Casey Group we have a workplace environment that brings out the best in our people and creates a customer first mindset. While we provide clients with best in class IT services and award winning apps such as Sales Navigator, it is our people and our team approach that are the keys to customer satisfaction and our success for twenty-four years."
"In business, the people and the Company behind the technology are as important as the technology itself. Our customers have the comfort and reassurance of knowing that The Casey Group is their partner," added Casey.
Produced by NJ BIZ, the Best Places to Work in NJ program identifies, recognizes, and honors the top places of employment in New Jersey that benefit the state's economy, its workforce and businesses. The program is made up of small/medium sized companies (15-249 employees) and large sized companies (250+ employees). The Casey Group is a winner in the small/medium category.
NJ BIZ, program sponsors and partners honored this year's winners at an awards dinner and ceremony on Thursday, April 25, 2013 at the Hilton East Brunswick, NJ.
About The Casey Group
The Casey Group is an award winning company and a provider of custom business and technology solutions, since 1989. From developing innovative mobility applications to modernizing legacy applications and providing managed IT services, The Casey Group has been supporting enterprise clients for over 24 years with solutions that achieve superior and sustainable business results.
The Casey Group is a Microsoft Certified and IBM Advanced Business Partner and has an award winning culture: Best Places to Work NJ 2011-2013; 2013 Top 10 CES Mobility App and 2012 Best Mobilty App, NJ Technology Council.