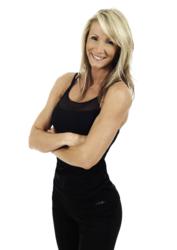 Elizabethtown, KY (PRWEB) April 24, 2013
Busy moms workout expert Holly Rigsby has just announced that her company, Fit Yummy Mummy, is launching a new product. FYM in the Gym is a comprehensive guide to working out in a workout facility for busy moms and other women.
Fit Yummy Mummy, before the launch of this new product, had previously concentrated much of its programming and materials to helping women enjoy quick workouts in the comfort of their own homes. This new product seeks to show women how to workout at a gym as well.
"Although many women go to the gym, I find that a great deal of them are intimidated by the weights and resistance equipment," Rigsby tells. "This is a shame because some the best workouts incorporate elements of strength training and lean muscle building."
FYM in the Gym, available for online purchase now, has been designed to help moms discover useful strength based exercises for their unique needs, challenge their bodies to respond to new challenges, and teach them proper form to work out effectively while avoiding injury.
The product has been designed exclusively by personal trainer and Fit Yummy Mummy founder Holly Rigsby to help women navigate the complex machines and workouts performed in a gym setting.
FYM in the Gym is an instantly downloadable workout program, featuring nearly 90 exercise videos. In the videos, Rigsby walks women through how to properly perform each exercise safely and effectively, with variations so they know how to modify as needed.
The product has been organized in an easy to follow format, with "mini-tutorials" taking viewers from a Readiness Assessment through Setting Up Equipment and working out the lower and upper body. It also features tutorials for core exercises, warm ups, cool downs, and much more.
In addition to the video tutorials, the product also comes with the FYM in the Gym Success Guide, a downloadable handbook filled with tips and strategies to get the most out of the product and perform better in the gym.
"I truly enjoyed working on this product and thinking back to the strategies I used to get people results in the gym," Rigsby reveals. "This is the next step in the evolution of Fit Yummy Mummy as the go-to resource for busy mom workouts."
FYM in the Gym is available now for purchase online. For more information and to purchase the product, visit: http://fyminthegym.com/
About Holly Rigsby: Holly Rigsby is the Co-Owner of Fit Yummy Mummy. She offers her clients a variety of training products to help them burn fat and writes a fitness blog for FYM.
Fit Yummy Mummy is part of the Fitness Consulting Group family of companies. FYM releases fitness products for moms looking to burn fat and get in shape. It also offers workout tips through its blog.
For more information on Fit Yummy Mummy, visit: http://getfitandyummy.com