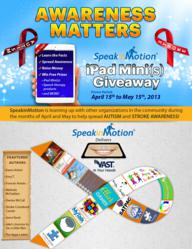 Arlington, VA (PRWEB) April 25, 2013
SpeakinMotion, a worldwide provider of speech therapy solutions, has teamed up with other members in the community to support Autism Awareness and Stroke Awareness during the months of April and May. The campaign is hosting giveaways while also providing resources with a goal of spreading autism and stroke awareness and supporting non-profit partners such as Autism Speaks. SpeakinMotion will be giving away iPad minis as well as VAST™ speech therapy apps, while fellow developers are donating their products that include therapy products, resources for child development and other great gifts. The developers providing gifts include: SATPAC, MyTalkTools, Abilipad, Dandelion Moms, Penelope the Purple Pirate, Ellie's Games, Tactus Therapy Solutions, Speech with Milo, and Smarty Symbols.
SpeakinMotion is also discounting their speech therapy apps throughout the promotion. Their applications deliver a unique approach to speech therapy called the VAST program. The VAST program is an innovative research based application of video technology designed to facilitate and improve communication abilities for speech-impaired individuals. At the most basic level, a VAST video is a close-up video of a trained model's mouth (along with synchronized audio) as they speak (or sing) a written script. The user watches the video (with optional written text), listens to the audio, and attempts to speak simultaneously with the model. With repetition and practice, this allows individuals to speak full sentences and communicate themselves. Many individuals on the Autism Spectrum or who have suffered a stroke are diagnosed with speech language disorders such as apraxia and aphasia. SpeakinMotion's family of apps include: apraxia therapy apps, songs apps, and autism apps. These apps have successfully been used in speech therapy to help individuals with speech disorders communicate themselves.
The "Awareness Matters" campaign will feature facts and stories from bloggers and friends of SpeakinMotion about autism and stroke related experiences. This portion of the campaign aims to provide a comprehensive outlook from several perspectives with the hope that their stories offer inspiration. The featured authors include: Karen Arbini, Frances Amato, Melinda McFadden, Denise McCall, Stroke Comeback Center, Jenni Rook, The Appy Ladies, Jakes's Journey to be a little man, and Amy T. The blog from Amy T. highlights the value iPads can have in these communities as well as the need to provide devices like these to individuals with special needs.
The iPad has revolutionized how speech pathologists and caregivers use technology in their speech therapy plan. The easy-to-use design of the iPad has helped adults with limitations and children with special needs take to the device more quickly. A goal of the campaign is to give away iPad minis to individuals in the community with special needs. Amy T, a campaign blogger, shared her story about winning a previous SpeakinMotion iPad contest and how she utilized it to create a loan library device program that has benefited many special needs kids in the San Diego area. By sharing these autism and stroke related experiences, the campaign intends to inspire donations to great autism and stroke organizations such as Autism Speaks, The Stroke Comeback Center and National Aphasia Association.
Read Amy T's story and donate to the featured organization, Autism Speaks.
SpeakinMotion was founded in 2008 to bring VAST to a larger population of speech-impaired individuals and speech professionals. VAST was pioneered at the Stroke Comeback Center in Virginia, where the program has significantly impacted a number of its members. Internal and independent trial programs have since been developed with over 12 test sites. The research has shown that many speech impaired individuals are able to acquire speech with the assistance of VAST. SpeakinMotion products include VAST applications, a custom recording service, and a subscription service that will be introduced in the near future.