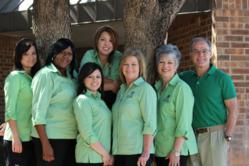 Now there is a concrete technique to determine if patients are at risk for decay and products that will help them prevent future decay.
Midland, Texas (PRWEB) April 25, 2013
Dr. Bell and his team is not the typical dental office. They not only see themselves as oral health specialists, but as whole-body wellness practitioners. Much evidence today supports the fact that the inflammation and bacterial infections that are associated with periodontal disease and dental decay have direct influence on many systemic diseases. Dr. Bell and his team know that 90% of systemic conditions is linked to symptoms in the mouth. The mouth is a crucial part of any diagnostic process for physicians and dentists when it comes to overall wellness. If symptoms such as bleeding gums, fungal infections, decay, inflammation or missing teeth present in the mouth, it could be a warning sign that a patient is at risk for things like heart disease, diabetes or osteoporosis.
Because of the responsibility to patient's health, Dr. Bell has adopted practices that help simultaneously manage a patient's risk for oral imbalance while cluing them in to possible systemic risk. The newest tool being used at the office is a caries (cavity) risk assessment program developed by CariFree that is shown to decrease incidents of tooth decay by up to 74%. The system is based on a medical model of risk assessment called CAMBRA or Caries Management by Risk Assessment.
The CariFree system requires the dental professional to assess each and every patient's risk factors for the dental caries disease and then develop a personalized treatment plan to systematically lower their risk. The CariFree diagnostic tools leverage biofilm testing (to determine the levels of cavity-causing bacteria in the patient's mouth) as well as a risk assessment questionnaire. Based on the assessment, Dr. Bell can tell a patient what their statistical likelihood is of developing tooth decay over the next 12 months. Never before has such predictive information been available. Patients can then measurably lower their risk for decay by utilizing professional products and behavior modification.
When a patient's risk for decay and other oral health issues are lowered, the risk of diseases like heart disease and diabetes are mitigated. In addition, keeping a close eye on changes in the mouth with these assessment tools makes early detection a priority. Dr. Bell and his team provide a patient-centered approach to dentistry that will direct each patient to his or her most healthy self. Dr. Bell states: "For years I have had patients ask why the always get cavities. Even though they do everything recommended with their home care, regular visits and diet, they would still have decay. Now there is a concrete technique to determine if patients are at risk for decay and products that will help them prevent future decay."
For more information on the CariFree system, go to http://www.carifree.com. To call now and make your appointment with Dr. Bell, call 432-687-0041.
About Dr. Bell:
Dr. Bell grew up in Odessa and received his undergraduate degree from Texas A&M. He completed his dental studies at the University of Texas Dental Branch in Houston, and he has been practicing in Midland for more than 30 years now.
Dr. Bell believes that his skills must keep abreast of all the new and advanced procedures in order to provide his patients with the most advanced and up-to-date care, and has completed extensive course work in continuing education. His professional memberships include the American Dental Association, The Texas Dental Association, The Permian Basin District Dental Society, the Christian Dental Society, The Academy of General Dentistry and the Seattle Study Club.