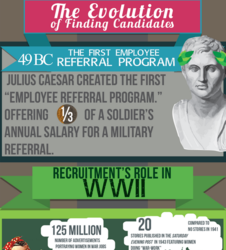 Infographics are a great way to learn because the information is direct, yet it is shared in a fun, engaging way. -- Erin Borgerson, marketing coordinator
Chicago, Ill (PRWEB) April 25, 2013
Hireology, a leading selection management system, released an [INFOGRAPHIC] titled "The Evolution of Finding Candidates." Focusing on how recruitment and selection has evolved over time, the infographic aims to help hiring managers in the decision making process.
Starting with employee referrals dating back to ancient Rome, the infographic includes statistics and facts about how the industry has changed and where it is headed.
"Hiring managers are always working to stay up to date on the latest industry trends," said Erin Borgerson, Hireology's marketing coordinator. "Infographics are a great way to learn because the information is direct, yet it is shared in a fun, engaging way."
Hireology's web-based platform and Selection Manager™ is proven to reduce recruiting and interviewing time, improve turnover and drive increased productivity. To learn more about Hireology's views for the future of HR technology, click here.
About Hireology
Hireology's award-winning Selection Management System helps companies organize their hiring process and leverage data to make better hiring decisions. Franchise systems, banks and financial institutions, healthcare systems, dealer networks, and other multi-site operators use Hireology's web-based Selection Manager™ to deliver consistent and repeatable hiring decisions in the field - leading to better hiring decisions, lower turnover, and increased profitability per location. For more information, please visit http://www.Hireology.com.