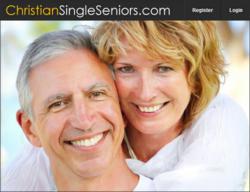 ...many seniors who are without a partner will feel inspired to try something new.
Torrance, CA (PRWEB) April 26, 2013
To welcome in the unofficial start of summer, ChristianSingleSeniors.com, a market leader in senior dating, is reporting that it will offer discounted membership rates when purchasing a subscription during Memorial Day weekend.
Long a popular time for businesses to conduct sales, the senior dating site will hold the sale from Saturday, May 25th to Monday, May 27th. "Sales during holidays, especially Memorial Day have become second nature," says Olga Wright, a spokesperson for ChristianSingleSeniors.com. "For many seniors, budgets are tight. With this sale, as with past ones, we hope to attract senior dating hopefuls who were kept away because of the full price."
Site leaders exude confidence about this call to action, which they believe will benefit those who are attempting senior dating for the very first time. "With all the excitement of the Memorial Day holiday already in the air," says Wright, "which might hold higher value to elder generations, I think many seniors who are without a partner will feel inspired to try something new."
The senior dating site will continue to offer free memberships that provide some basic features, the site's paid subscriptions will offer users advanced features, such as chat and member-to-member messaging. Previous promotions had discounted memberships up to 50%, although it is not yet known what the Memorial Day weekend sale will hold. It is thought that company officials will discount rates to a price that is lower than that of competing sites. Senior dating hopefuls who hope to partake in the special offer can do so by using the promotional code: memorialday13.
With past promotions not far in the rearview, there is potential for offering too much of a good thing. Wright is quick to state otherwise. "Other promotions resulted in dramatically increased membership," says Wright. "So much so that it offset the lower cost. It's the 'Walmart Effect' in action. Great results are often achieved, in retail or in Senior dating, when making more sales, even if they're at a lower price."
Senior dating hopefuls who wish to become a member of ChristianSingleSeniors.com choose from various subscriptions, billed only once, that are payable via Paypal or credit card.
About ChristianSingleSeniors.com
Part of a leading Christian dating network established in 1997, ChristianSingleSeniors.com is unique in its approach: all of its members are committed to seeking out long-term, faithful relationships. Unlike most dating sites, this senior dating service does not allow casual dating. The sites of this Christian online dating community have gained great popularity and are frequented by Christians from all over the world. An approved member of the BBB online Reliability Program, Christian Singles Commitments Corp is committed to providing safe and secure online dating.