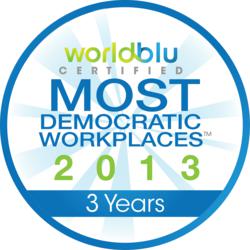 Building this radically different environment has been an incredible experience for everyone involved, including our customers. It is much easier said than done, but worth every ounce of investment. -- tenfold." -CEO Ken McLoughlin
San Diego, CA (PRWEB) April 25, 2013
PAI is proud to announce that it has yet again been included amongst the prestigious list of 51 organizations to achieve WorldBlu Certification for Workplace Democracy. CEO Ken McLoughlin describes this significant achievement: "PAI clearly understands that our success is forever dependent on our ability to build a team that works in the most collaborative ways possible. Building this radically different environment has been an incredible experience for everyone involved, including our customers. It is much easier said than done, but worth every ounce of investment -- tenfold."
This is the third consecutive year that PAI has earned WorldBlu certification, a distinction shared only by 27 other organizations world-wide, including the likes of Zappos, Podio and WD-40. In each year as an applicant, PAI has managed to improve its overall WordlBlu score over the previous year's rating. The scores are determined by employee survey responses to a questioner based on WoldBlu's 10 Principles of Organizational Democracy, which include categories such as transparency, fairness and accountability.
"It's such an honor being part of an organization that truly inspires and motivates our workforce to speak openly, think like an owner, and make good choices along the way," added Banna Aparicio, PAI's Director of Creative Talent Resources. "Many organizations claim to care about what their employees have to say, but we don't just say it, we live it every day."
PAI attributes the adoption of a Tribal Culture and the implementation of its 9.1 Core Values as primary factors for providing a happy and efficient workplace. These values not only enable the entire organization to function in an optimal manner, but also empower each employee to make their own choices as an individual.
About PAI
Productivity Associates (PAI) provides customized and innovative U.S. based Technical Support Service Solutions. PAI enjoys an award-winning, highly unique freedom in the workplace culture. Founded in 1992, PAI's vision is to positively change the world through the sum total of its amazing interactions and awesome company culture. The company's strategic focus and commitment is to be a Growth Partner for its clients. For more information visit: http://www.gotopai.com.