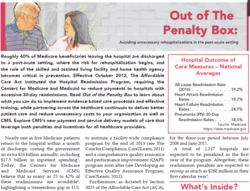 Care2Learn has invested a tremendous amount of effort in supporting our customers with an understanding of how to reduce rehospitalization, and this whitepaper is a culmination of that effort. - Care2Learn President Tamar Abell
Tampa, FL (PRWEB) April 25, 2013
Care2Learn, an industry leader in online compliance training and record-keeping for senior care, announced today it is making available a new whitepaper: "Out of the Penalty Box: Avoiding Unnecessary Rehospitalizations in the Post-acute Setting." The paper discusses efforts communities need to make to prepare for reducing rehospitalization, including answering to referring hospital demands and ensuring staff is ready to care for a higher-acuity resident population.
Throughout the whitepaper, industry experts offer perspectives on how to reduce rehospitalization through medication reconciliation, training, improved communication between the acute and post-acute provider, and understanding the care required for higher-acuity residents. The whitepaper discusses:

Implementing evidence-based care processes
Understanding the role of effective training
Partnering across the healthcare continuum
Reducing unnecessary costs
Adopting CMS's new payment and service delivery models
"Care2Learn has invested a tremendous amount of effort in supporting our customers with an understanding of how to reduce rehospitalization, and this whitepaper is a culmination of that effort," noted Care2Learn President Tamar Abell. "The whitepaper supports a year-long investment in our library where we've launched new course series including our Reducing Rehospitalization Series and our Rapid Review Series."
Care2Learn's Rapid Review Series is a complete set of online training modules developed to ensure nurses can, in fact, assess and implement procedures that would be necessary to prevent rehospitalization. The Reducing Rehospitalization Series is a set of modules that follow the diagnoses for each care path outlined by the INTERACT II tool.
The whitepaper Out of the Penalty Box: Avoiding Unnecessary Rehospitalizations in the Post-acute Setting is available for download from the Care2Learn online media library at: http://www.care2learnenterprise.com/downloads/whitepapers.aspx.
White Paper Abstract
Effective October 2012, The Affordable Care Act instituted the Hospital Readmission Program, requiring the Centers for Medicare and Medicaid to reduce payments to hospitals with excessive 30-day readmissions. Because roughly 40% of Medicare beneficiaries leaving the hospital are discharged to a post-acute setting, where the risk for rehospitalization begins, the role of the SNF/LTC facility is critical in preventing readmissions. Read Out of the Penalty Box to learn about CMS's new payment and service delivery models of care that leverage both penalties and incentives for healthcare providers and what you can do to implement evidence-based care processes and effective training, while partnering across the healthcare continuum to deliver better patient care and reduce unnecessary costs to both your organization and CMS.
About Care2Learn
Care2Learn delivers superior online education and training for the senior care industry and holds more than 70 state and national accreditations. Through its award-winning healthcare Learning and Performance Engine Care2Learn offers individual courses as well as large-scale corporate training solutions for healthcare organizations featuring customizable and easily accessible online universities with a full range of tracking and reporting features. With an online library exceeding 500 courses authored by more than 150 subject matter experts, Care2Learn serves more than 500,000 healthcare professionals in all 50 states and Canada. Founded in 2000 and acquired in 2007 by eLearning provider VectorLearning, Care2Learn is headquartered in Tampa, Florida and is the recipient of numerous community honors and industry rewards. In 2012 Care2Learn merged with healthcare eLearning and record-keeping provider Upstairs Solutions to provide even more products and services for its online users. For further information, visit http://www.Care2Learn.com or http://www.Care2LearnEnterprise.com.