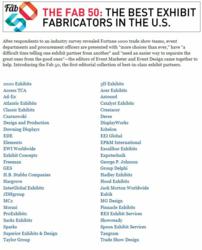 Pleasant Prairie, WI (PRWEB) April 25, 2013
Catalyst Exhibits, Inc., an award winning global exhibit company is excited to announce that they have been distinguished as an industry leader by Event Marketer Magazine's first editorial collection of best-in-class exhibit designers. According to Event Marketer, the new list - officially titled The Fab 50: The Best Exhibit Fabricators in the U.S. – is the answer to numerous client requests for "an easier way to separate the great ones (exhibit fabricators) from the good ones".
"The plethora of trade show companies operating in the United States alone can turn a customer's search for a qualified exhibit design agency that understands their business and its needs, into a stressful, never-ending pursuit" said Jonathan Wichmann, Catalyst's Online Marketing Manager. "Objective, third-party directories like the Fab 50 list can remove a lot of the stress and uncertainty from that process, and Catalyst Exhibits is pleased to be recognized as being an agency that prospective clients can be confident in partnering with".
Event Marketer's Fab 50 list went on to profile Catalyst Exhibits as building trade show experiences that "create an exciting visual outcome for clients and a tangible revenue return" as well as being "exceptionally strong in the area of custom and rental programs". Compiled through client feedback and data collected through an industry survey, the Fab 50 list is a collection of the leading 50 trade show exhibit companies in the United States.