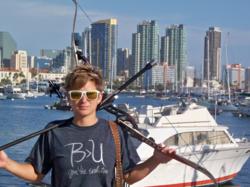 Win a $500 cash prize for the B>U Tee Shirt Contest.
Austin, TX (PRWEB) April 30, 2013
Inspirational brand B>U opens up their 2013 B>U tee shirt contest with a $500 cash prize. The winning design will be printed on 500 shirts and for every shirt sold, one dollar will go to the winner adding another $500 to the cash prize.
Entry fees are $20 and the entries will be closed one week after the first fifty people submit their entries. Five finalists will be selected and presented to the public through BGreaterThanU.com and the "Be Greater Than You (B>U)" Facebook page. The public will have one week to vote among the five finalists that will determine the winner. Every entrant will receive a free B>U Tee Shirt.
Eligible entries must include the ">" sign. The design must be just one color. Contestants may enter as many designs as desired but each submission requires a separate entry form and fee. Designs may be created by hand or may be computer generated. For full contest rules and submission guidelines, go to B>U's website.
"We want to provide every opportunity for people to be greater than themselves. This tee shirt design contest provides artists their opportunity to show the world their talents," comments B>U Creator, Matt Evans.
To enter, go to BGreaterThanU.com. Or you can mail your entry form, design and check to P.O. Box 10673, Austin, TX 78766. Please make checks payable to "Be Greater Than You".
About B>U:
BGreaterThanU.com offers lifestyle tips, motivational quotes and features inspirational stories about individuals being greater than themselves for a better world. For more information, go to BGreaterThanU.com.