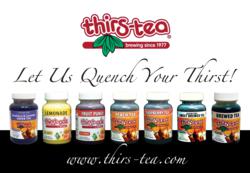 This partnership...provides us a way to say "thank you" and give something back to our customers.
Boca Raton, Florida (PRWEB) April 29, 2013
In celebration of their 36th anniversary supplying the foodservice industry, ThirsTea Corporation announces a partnership with Foodservice Rewards beginning May 2013.
Foodservice Rewards is an operator loyalty program that allows customers to earn rewards for their foodservice purchases on participating merchandise of their choice. Ray Welch, President of ThirsTea Corporation stated, "Our focus over the past three decades has been our foodservice customers. We have always offered a quality product at a competitive price with uncompromising customer service. This partnership with Foodservice Rewards provides us a way to say "thank you" and give something back to our customers."
ThirsTea Corp, a Boca Raton, Florida based company, has been the leader in liquid tea concentrate since 1977. Their signature foodservice product is a liquid tea concentrate, available in both unsweetened and sugar-free versions. The ThirsTea portfolio of products includes: plain brewed tea, sweet tea, lemonade, fruit punch and additional flavored teas. The product is extremely versatile and conveniently packaged in a 4 oz bottle that makes "brewing" tea simple for any foodservice operation. Orders can be placed directly online at http://www.thirs-tea.com or through a foodservice distributor.
Lisa Snider, Director of Coalition Marketing for Foodservice Rewards said, "Small companies like ThirsTea are a great asset to our program because their participation gives our operator members more opportunities to earn. At the same time, it allows these smaller companies to leverage their marketing dollars more efficiently to reward current customers for their loyalty and expose new customers to their product offerings. Foodservice operators who are not currently enrolled in our program can enroll for free simply by visiting our website http://www.foodservicerewards.com."
Welch stated, "ThirsTea will officially celebrate our anniversary the week of June 22nd with a series of online promotions and opportunities for our customers, but the Foodservice Rewards partnership allows us to give back all year long. We have already started affixing the distinctive yellow decals to the outside of our line of 4oz foodservice products and based on inventory levels and customer pull-thru, we should start seeing the reward labels in the marketplace within weeks."
About ThirsTea Corporation:
Established in 1977, ThirsTea is a privately owned corporation headquartered in Boca Raton, Florida. ThirsTea is committed to providing the highest quality beverage concentrates with uncompromising customer service. Their products are produced in Florida, Texas, Kentucky and California and are distributed to foodservice operators throughout the country. For more information visit http://www.thirs-tea.com or call 561.948.5600.
About Foodservice Rewards:
Foodservice Rewards® is a Coalition Marketing program from BI WORLDWIDE, a privately held company founded in 1950 headquartered in Minneapolis, Minnesota. The Foodservice Rewards program launched just over ten years ago and has become the largest direct-to-operator foodservice marketing program in North America. The program provides branded suppliers with critical information about their customers and purchasing habits leveraging direct marketing tools to influence behavior and deliver measurable results. For more information, visit http://www.foodservicerewards.com or call 1-888-674-2872.