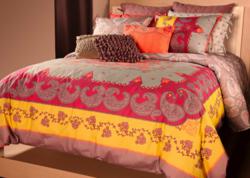 New York, NY (PRWEB) April 26, 2013
Summer is the perfect time to brighten the home with lively colors, fun and funky florals, and sun exposure. Ellery Homestyles, a leader in home fashion, shares simple secrets to optimizing summer style.
Looking for an easy way to brighten the home? Add sheer curtains to every window. Layer coordinating sheers under existing curtains, or hang them alone for beautiful filtered light. Sheers are also a great way to add a little color to home decor without making any drastic changes. Sheers like Curtain Fresh Odor Neutralizing curtains provide the beauty and benefit of traditional sheers, while providing a commonly needed home solution. As they hang, these curtains interact with the sunlight and turn everyday household odors into water vapor. Having a bright, fresh home is always fashionable!
What else is in this summer? Think big bold prints, contemporary florals, and colors that pop. Nothing brings new life to a room like a fresh bedding ensemble. Try fashion forward brands like Vue Bedding, inspired by the latest styles. Not looking to redo the whole room? Just add a few funky, bright toss pillows and make neutral bedding more exciting. Get a bed skirt in a coordinating bright color to complete the look. It only takes a few accessories to transform the look of an entire room.
For information on these brands, please visit Ellery Homestyles.