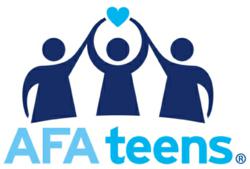 New York (PRWEB) April 25, 2013
It began with a contra-dance that transported the reader to an old town hall, and, just as quickly, it grounded the reader in the realities of living with a parent who has Alzheimer's disease. That was the power of an essay written by Jadend Russell-Johnson that netted the Maine teenager the $5,000 award in the Alzheimer's Foundation of America's (AFA) 2013 AFA Teens for Alzheimer's Disease Awareness College Scholarship competition.
In her moving essay, Russell-Johnson, 18, of Falmouth, Maine, powerfully entwined some of her happiest memories of dancing with her adoptive father with the life lessons she learned as his Alzheimer's disease progressed: acceptance, compassion, patience, humor, appreciation, respect, and support.
Sadly, Russell-Johnson was notified of her win just about two weeks after her 72-year-old father, David Perry Johnson, passed away on April 2. He had been diagnosed with Alzheimer's disease in 2008 and most recently had resided in an assisted living facility.
AFA also announced the first runner-up, Marina Renton, of Andover, Mass., and the second runner-up, Audrey Chou, of Northbrook, Ill., who will receive $500 and $250 scholarships, respectively.
Nearly 2,000 college-bound teens from across the country entered AFA's annual competition this year. They poured their hearts out in very personal essays that reflected how Alzheimer's disease, which currently affects as many as 5.1 million Americans, has impacted their lives. Several common themes emerged, including denial, the toll on family dynamics, balancing teenage years with caregiving responsibilities, and developing strength and insight as a result of their family or volunteer experiences.
"This year's winning essays powerfully resonated with us both intellectually and emotionally," said Carol Steinberg, AFA's acting chief executive officer. "These teens reached down deep inside and mustered constructive, courageous and compassionate responses to their circumstances. It is inspirational that a disease so bad could produce hearts so good."
Asked how she felt about winning the scholarship, in light of her father's death, Russell-Johnson responded, "It's bittersweet, certainly; however, having my thoughts and memories not only down on paper, but validated and understood by others makes the win a real positive."
The teen, who plans to major in art at college and become an animator, opted to craft her essay around contra-dancing because it is a "huge part of my identity."
"Contra-dancing was an aspect of our lives that was always wrapped in great memories, great music and the thought that for a few hours, we could be away from it all," said Russell-Johnson. "Connecting such a blissful influence with my experiences with the disease seemed a nice tribute to him."
For Renton, her experience with a loved one who had dementia led to becoming a volunteer at the assisted living facility where her grandfather spent the final six months of his life.
"It was a way to say 'thank you' for the compassionate care he received, as well as to, quite frankly, pay penance for all the times I had lost patience with him ...," wrote Renton. She later implemented an improvisational storytelling program at the residence.
Meanwhile, Chou's essay illustrated the lack of preparedness among families to cope with Alzheimer's disease—a comment often expressed by adult caregivers, let alone teens.
By the time she was 10, Chou thought she had learned everything she needed to know in life from books. It was not until her great-grandmother, Boki, as she called her, was diagnosed with Alzheimer's disease that she realized her books "had no road map for how to proceed" in such a situation. She was determined to figure it all out, beginning with always making her great-grandmother feel loved and supported.
The college scholarship is just one of the many features of AFA's teen division, which is aimed at educating and engaging youth. The award-winning division includes an online support community and the opportunity for teens to form chapters in their communities.
"The scholarship competition highlights the vital role teens play as family caregivers and volunteers, and why AFA began and continues to expand its teen programming," Steinberg noted.
For more information about AFA Teens and to read the winning scholarship essays, visit http://www.afateens.org.
About AFA Teens
Founded in 2002 by a teenager, AFA Teens seeks to mobilize teenagers nationwide to raise awareness of Alzheimer's disease and to engage teenagers in the cause. The award-winning division is aimed at teens with family members affected by the disease or those purely interested in the cause. AFA Teens creates an online community for teens and offers them the opportunity to start or join AFA Teens chapters forming across the country. For more information about AFA Teens, call 866-232-8484, visit http://www.afateens.org, follow us on Twitter (@AFAteens), and "like" us on Facebook (facebook.com/afateens).
About Alzheimer's Foundation of America (AFA)
The Alzheimer's Foundation of America, based in New York, is a national non-profit organization that unites more than 1,600 member organizations nationwide with the goal of providing optimal care and services to individuals confronting dementia, and to their caregivers and families. Its services include a toll-free hot line, educational materials, a free quarterly magazine for caregivers, and professional training. For more information about AFA, call toll-free 866-232-8484, visit http://www.alzfdn.org, follow us on Twitter (@alzfdn), and "like" us on Facebook (facebook.com/AlzheimersFoundationofAmerica).
Photos available upon request.