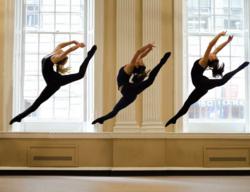 New York, NY (PRWEB) April 24, 2013
Pace Performing Arts presents "Dance Out Loud 2013," featuring the piece "Dance in a Straight Line" by choreographer Mandy Moore from "So You Think You Can Dance" April 26 and 27 at Pace's Michael Schimmel Center for the Arts.
The event was conceived and directed by Rhonda Miller, director of Pace Performing Arts' BFA Commercial Dance Program, which is the first of its kind in New York City. Works by acclaimed Pace faculty will be a highlight of the evening, starring 50 Pace Commercial Dance students, including Callie Gullickson, Briana Kohn, Madison Embrey. Dance Out Loud will also feature excerpts from "Rodeo," by Agnes DeMille and staged by Paul Sutherland, "Psalm," by Jose Limon staged by Jonathan Riedel, and "Oh What a World," by Cirque du Soleil choreographer Cherice Barton. These guest works have been funded by the Voice of an Angel Foundation.
WHEN: Friday, April 26 at 8 p.m. and Saturday, April 27 at 3 p.m. and 8 p.m.
WHERE: Pace University's Michael Schimmel Center for the Arts, 3 Spruce Street (east of City Hall), New York, NY 10038. Directions: http://bit.ly/qxH0g3
TICKETS: $8 for students/seniors; $12 for adults at the door or reserve in advance on the web OVATIONTIX.COM/TRS/PR/922120
Choreographers: Cherice Barton, Agnes DeMille (staged by Paul Sutherland), Jeremy Duvall, Lauren Gaul, Jessica Hendricks, Scott Jovovich, Jose Limon (staged by Jonathan Riedel), Jen Littlefield, Rhonda Miller, Mandy Moore, Alisa Paradowski, Gregg Russell, Stephanie Torbik. Costume Design: Angela Wendt; Lighting Design: Graham Kindred.
About Performing Arts Programs at Dyson College of Arts and Science at Pace University: Undergraduate: Dyson College's Department of Performing Arts offers Bachelor of Fine Arts degrees in Acting, Musical Theater, and Commercial Dance, the International Performance Ensemble that includes a Bachelor of Art in Acting and a Bachelor of Arts in Directing, and a Bachelor of Arts degree in Theater Arts in Design and Production for Theater, Television, and Film Concentration. The department presents more than 50 performances every year. In 2006, Pace became only the second school in New York City to offer a BFA in Musical Theater.
http://www.pace.edu/performingarts.
Pace Performing Arts Commercial Dance program, the first of its kind in New York, is an exclusive blend of the highest quality of professional dance training. In this conservatory-style program, students are prepared for a career that includes stage, television, film and commercials with training by current working professionals in a variety of pertinent dance styles such as Ballet, Jazz, Modern, Theater Dance, Tap, Contemporary, Hip Hop and Aerial Arts. Acting, vocal studies and technical theater skills are also part of the program.
Graduate: The Actors Studio Drama School at Pace University, also located in Dyson College, is the only MFA (Acting, Directing and Playwriting) theatre program officially sanctioned by the legendary Actors Studio (co-presidents Ellen Burstyn, Harvey Keitel and Al Pacino). All MFA students participate in the Craft Seminars known to the world as the Bravo Network television series Inside the Actors Studio (taped at Pace's Schimmel Theater and open to students), hosted by James Lipton, Dean Emeritus and Co-Founder of the Actors Studio Drama School. http://www.Pace.edu/ASDS
About Pace University: Since 1906, Pace University has educated thinking professionals by providing high quality education for the professions on a firm base of liberal learning amid the advantages of the New York metropolitan area. A private university, Pace has campuses in New York City and Westchester County, New York, enrolling nearly 13,000 students in bachelor's, master's, and doctoral programs in its Lubin School of Business, Dyson College of Arts and Sciences, College of Health Professions, School of Education, School of Law, and Seidenberg School of Computer Science and Information Systems.