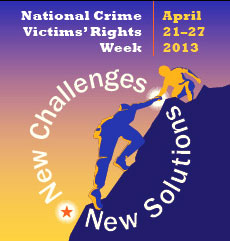 It is not often enough that crime victims have advocates after the headlines have gone away.
Dallas, TX (PRWEB) April 24, 2013
Cowboy Bail Bonds President Buckley Chappell congratulates Dallas police Sgt. Patrick B. Welsh on receiving the Allied Professional Award for developing a program that helps victims of previously unresolved sexual assaults get closure.
The Allied Professional Award recognizes individuals outside the victim assistance field for their service and contributions to victims and the victim services field. Welsh has advocated for crime victims for more than 30 years and currently serves as the sexual assault unit supervisor. There, he established the Sexual Assault Cold Case Program, which focuses on assaults that occurred between 1970 and 1996, past the statute of limitations for prosecution. In 2009, Welsh, along with a number of sexual assault victims, testified representing SEACAP in support of a bill requiring Texas law enforcement officials to note in individuals' criminal histories the fact that their DNA was linked to a sexual assault for which they can never be tried. The bill is now law in Texas.
"I applaud Sgt. Welsh for his efforts," Chappell said. "It is not often enough that crime victims have advocates after the headlines have gone away. The impact of what these people and organizations have accomplished reaches far beyond any one person, it ripples throughout the community."
Attorney General Eric Holder of the U.S. Department of Justice will present Welsh along with 12 other people and organizations, the awards in a special ceremony in Washington D.C. today, April 24, 2013 at 1 p.m. at the midpoint of National Crime Victims' Rights Week.
The recipients hail from Arizona, Florida, Hawaii, Kansas, Maryland, New York, Oklahoma, Oregon, Washington D.C. and two from Texas, Welsh in Dallas, and the Texas Association Against Sexual Assault in Austin, an organization that lobbied on behalf of legislation to establish a fund for sexual assault survivors from a surcharge levied on strip club patrons.
Since 1981, the USDOJ's Office for Victims of Crime has helped lead communities across the country in observing National Crime Victims' Rights Week through this annual ceremony. Attendees include crime victims, survivors, victim advocates and allied professionals.
"As a society we often identify the victims of crime as those whom the act is perpetrated against, but perhaps, we should broaden that identity and realize that everyone impacted by the crime is a victim of it including spouses, children, friends and extended family. That way we can really advocate for their collective rights with efficacy," Chappell said.
National Crime Victims' Rights Week is observed every April. This year it is observed April 21-27 with events occurring daily around the country. For more information on the National Crime Victims' Rights Week, visit http://www.ovc.gov/ncvrw2013 or to visit the Office for Victims of Crime's Gallery: https://ovcncvrw.ncjrs.gov/awards/awardgallery/gallerysearch.html.
Cowboy Bail Bonds is a licensed Bail Bondsman in Texas with locations in Dallas, Garland and Irving. Cowboy Bail Bonds has been helping families since 1997. Their licensed bail bond agents have helped people in every situation imaginable statewide and nationwide. The company offers 24/7 bail bond services nationwide. If you or a loved one needs help, do not hesitate to call the closest location. Call Cowboy Bail Bonds today at 214-716-5029 in Dallas, 972-696-0061 in Garland, and 972-696-0089 in Irving. Let our family help your family.