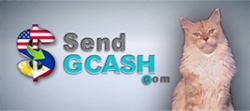 Midland, Michigan (PRWEB) April 26, 2013
SendGCASH offers significant savings when sending the average amount of $250-$400 per month from the US to the Philippines. SendGCASH provides services exclusively to the Philippines. SendGCASH is taking advantage of new mobile money transfer technology and sharing the savings with customers.
Mobile Money Transfer
Globe Telecom is a leading mobile network operator in the Philippines. With the cooperation of the Central Bank of the Philippines, Globe created a mobile banking product called GCASH and launched the service in early 2004. Globe's GCASH network has 2 million registered Filipino users to date with over half the GCASH users added in the past year. Globe processes $83 million in transactions per month in country.
SendGCASH fills the missing piece of the mobile money puzzle by adding a way to transfer money into the GCASH mobile banking network from outside of the Philippines. Filipinos that do not have bank accounts now have access to banking services using GCASH.
The Central Bank of the Philippines has set some rules for Mobile Money Transfer. One is that no more than 40,000 pesos can be sent in one day and another that a maximum of 100,000 pesos can be sent per month. US bank account holders that currently remit monthly to the Philippines will realize significant savings by switching to SendGCASH.
About SendGCASH
The sendgcash.com website provides services to any US bank account holder.
The SendGCash GCASH service allows Globe and Touch Mobile mobile phone users to receive GCASH on their mobile phones.
The SendGCASH Remit service allows Sun, Smart and Next mobile phone users to receive their money at any of over 18,000 GCASH locations throughout the Philippines.
The SendGCASH BancNet service allows customers to send money directly into a bank belonging to the Philippine BancNet system.
The SendGCASH Billpay service allows customers to pay bills for their families and associates in the Philippines.
SendGCASH customers will find the website easy to use. SendGCASH customers can create a one-time transaction, or set up repeating transactions on a weekly, twice per month or monthly basis.
The owners of SendGCASH have family back in the Philippines. SendGCASH understands the needs of customers concerning the ability to send money to their friends and family in the Philippines. SendGCASH provides a toll-free help desk with customer support reps that speak English and Filipino dialects.
SendGCASH's goal is to provide the best money transmission service exclusively to the Philippines.
They never charge a transaction fee. They have a competitive exchange rate. Their daily exchange rate is published at sendgcash.com.
SendGCASH provides their customers an easy to use, low cost, secure and reliable way to send money to the Philippines.