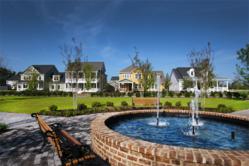 Our vision for Carnes Crossroads is similar to what we envisioned for Daniel Island when development there first began more than 15 years ago.
Goose Creek, S.C. (PRWEB) April 25, 2013
Residential construction is underway at Carnes Crossroads, a 2,300-acre master planned community being created by the Daniel Island Company within the growing Goose Creek and Summerville area of Charleston, just off I-26. David Weekley Homes, Eastwood Homes and Sabal Homes are building the first homes within the much-anticipated second community from the developer of Charleston's highly-successful Daniel Island.
Located just three miles from Exit 199 on I-26, the mixed-use community of Carnes Crossroads is uniquely positioned to develop as a significant commercial and residential center for this growing area of Charleston. Planned to incorporate many of the same details and amenities that have helped make Daniel Island a success, Carnes Crossroads will carefully integrate traditional neighborhoods, parks, trails and lakes with schools and churches, a hospital, medical offices, retail businesses, corporate offices and more.
"Our vision for Carnes Crossroads is similar to what we envisioned for Daniel Island when development there first began more than 15 years ago," said Matt Sloan, President of the Daniel Island Company. "We envision the evolution of a 'smart growth' community that responsibly combines residential and commercial uses and evolves as a gathering place for the Goose Creek and Summerville area of Charleston."
The Village Green, now complete, lies at the heart of the community's first neighborhood, St. Thomas Park. As on Daniel Island, parks and the residential neighborhoods at Carnes Crossroads will form the core of the community, and parks will be a prominent feature of each neighborhood. A Grand Opening Street Party on April 28 will mark the first community use of this new open space, as well as the launch of the Carnes Crossroads community.
"We're inviting everyone to come out and celebrate the launch of our community, which is on its way to becoming a wonderful addition to this part of Charleston," said Chuck Buck, Broker-in-charge at Carnes Crossroads Real Estate, which is handling sales of all new residential property within the community. "It's an opportunity to enjoy some great food and activities for the kids, check out our newly opened model homes and learn more about our developing neighborhoods."
The first single-family homes at Carnes Crossroads -- built by David Weekley Homes, Eastwood Homes and Sabal Homes -- are now nearing completion. Traditional in design, the homes range in size from 1,700 to 2,700 sq. feet. Pricing begins in the mid-$200,000s. Each builder has also opened a fully-furnished home in the community's Model Row, located across from the Village Green and next to a home that serves as the Carnes Crossroads Information Center.
The neighborhood of St. Thomas Park is taking shape just a few blocks from Northwood Assembly, which opened in Carnes Crossroads in 2012. This state-of-the art facility houses a new church, pre-school facility and administrative offices on a 60-acre campus that will eventually see the addition of a new home for Northwood Academy (K-12), along with school athletic facilities.
Roper St. Francis Healthcare, a leading healthcare provider in the Lowcountry, has purchased 66 acres at Carnes Crossroads and is planning for the development of a new full-service hospital that will serve the healthcare needs of Berkeley County's growing population. The 50-bed facility will also house primary care and specialty physicians as well as diagnostic services.
"We already have about 600 parishioners at Northwood Church passing through our streets each week, and we look forward to the day when the medical community can begin serving patients in the area at Roper's Berkeley Hospital here at Carnes Crossroads," said Sloan. "That's a wonderful jumpstart for this new community."
For information about Carnes Crossroads, visit http://www.carnescharleston.com or call (843) 761-8600.
About the Daniel Island Company
The Daniel Island Company is a real estate development company specializing in the design and implementation of master planned communities that are based on the synergistic relationships between residential, commercial, recreational and civic uses. Using both proven and innovative development practices, the Company serves as a catalyst for the evolution of authentic small towns – building long-term value and a legacy of strong civic pride for residents, retailers and owners alike. Nationally recognized for careful, inspired and economically viable development, the Company aims to create communities that are models for responsible growth practices and contextually relevant to the region.