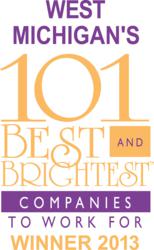 We are excited to share this special moment with Baudville. The successes that our companies see truly stem from teamwork and outstanding human resource policies. - Kelli Piepkow, IDville's Marketing Manager
Grand Rapids, MI (PRWEB) April 25, 2013
IDville, the leading identification and security expert for business, education, healthcare, and government is pleased to announce that their parent company, Baudville, has been selected as one of West Michigan's 101 Best and Brightest Companies to Work For.
"We are excited to share this special moment with Baudville," said Kelli Piepkow, IDville's Marketing Manager. "The successes that our companies see truly stem from teamwork and outstanding human resource policies."
Since 2002, companies have turned to IDville for easy and affordable identification solutions that fit their security plan and budget. IDville's identification expertise dates back to 1992 when its parent company, Baudville, Inc., released its first proprietary software program, Badge Maker. Since then, IDville has used customer feedback to continually make improvements to the program, which recently culminated in ID Maker 3.0.
IDville's parent company, Baudville, has been an integral part of recognition programs and practices in organizations across the country for the last twenty five years. Their recognition products and expertise has helped millions recognize the essential pieces of their businesses, schools, hospitals, and non-profit organizations. Although Baudville looks quite different today than they did in 1983, they still have the same goals for their customers and remain employee-focused and drive positive behavior throughout the entire organization.
"We are thrilled to receive this honor," said Brad Darooge, President and CEO of Baudville. "We could not have achieved this award without the efforts of our amazing staff. We believe we have some of the best talent in West Michigan, and we thank them for this accomplishment."
About IDville
IDville, the leading identification and security expert for business, education, healthcare and government, focuses on the identification of employees, students, and staff. The brand has become known for its user-friendly ID Maker(TM) suite of products, Quantix(TM) time and attendance system, superior customer service, and expert knowledge. The brand offers complete identification solutions including software, printer systems, custom lanyards, badge reels, office nameplates, and more, simplifying the buying and identification processes.