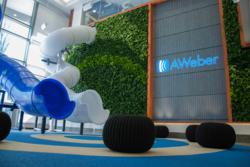 We're proud of our team and culture here at AWeber, and are thrilled to have a new headquarters in which we can continue growing and thriving.
Chalfont, PA (PRWEB) April 25, 2013
AWeber, the growing Philadelphia-area email marketing software company, today announced the grand opening of its new headquarters in Chalfont, Pa. This renovated 71,000-square foot building was designed to be a progressive "office of the future" environment for AWeber's 90-person team, and will be celebrated with an open house and ribbon-cutting ceremony on April 30, 10 a.m. - 12 p.m.
"We're proud of our team and culture here at AWeber, and are thrilled to have a new headquarters in which we can continue growing and thriving," said Tom Kulzer, Founder and Chief Executive Officer at AWeber. "In addition to providing a fun place for our team to help small businesses every day, I hope we can offer inspiration to business leaders seeking to create their own innovative workplaces."
After operating out of Bucks County for 10 years, followed by four years in Montgomery County, AWeber returned to its roots with its December 2012 move to 1100 Manor Drive in Chalfont. The new headquarters is positioned in a convenient location for team members commuting from the greater Philadelphia area, and provides ample space for the rapidly-expanding team to grow to 350 members.
Art, Nature and Indoor Slides
Visitors entering the building are greeted with two indoor sliding boards descending from the second floor into the lobby, next to a 20-foot green biowall and waterfall. A beautiful LEGO-inspired mural created by Philadelphia mural artist David Guinn wraps a staircase wall leading to the second floor, providing a colorful tribute to how the AWeber team works together with small businesses to help them grow.
Working and Collaborating Side-By-Side
AWeber's team-focused culture and flat hierarchy was a core influence in choosing an open office layout. All team members, including executives, work in open office areas with low desk partitions. Each desk is on wheels, allowing for fluid team arrangements. Meeting rooms and breakout areas are sprinkled throughout the office, and nearly every wall is covered with a whiteboard surface for group brainstorming and decision-making.
AWeber: Where "Fun" is a Core Value
Just as team-driven innovation is essential to AWeber's growth and success, having fun together helps drive AWeber's unique personality. With bright vibrant colors and quirky decorations such as two full-sized red phone booths, the new headquarters is an exciting environment to both work and play. A game room is equipped with table tennis, pool, foosball, arcade games, video games and two theater rooms, providing entertainment and fostering team work during lunch and after work – on top of the Nerf gun battles that break out nearly every day.
Promoting Health and Wellbeing
AWeber took great efforts to design a workplace that would promote healthy lifestyles among team members. The most popular team perk is the in-house kitchen staffed by three full-time chefs who prepare free lunches every day using organic and locally-sourced ingredients. All workstations have fully-adjustable standing desks, and team members exercise regularly at AWeber's free weekly in-house Yoga classes, a park immediately next to the building, or at nearby gyms with fully-reimbursed gym memberships. AWeber also covers 100% of health, vision and dental for all team members and their families or domestic partners.
"Green" Business Practices
Throughout every stage of the building's renovation – and in establishing its current operations – AWeber embraced "green" practices and the latest technology solutions to minimize its environmental impact. Ninety-five percent of building construction waste was recycled, and unused furniture was donated to local charities. AWeber uses daylight harvesting to reduce energy consumption, with floor-to-ceiling windows brightening the entire office with natural sunlight, and window shades automatically adjusting based on the position of the sun. A state-of-the-art building management system monitors over 50,000 points in the building every 15 seconds, providing optimal light and temperature control and minimal waste. All team members use reusable drinking cups filled by automated bottle-free water stations around the office.
AWeber's unique culture and approach to business has been recognized recently through numerous awards, including the 2012 Eastern Montgomery County Business of the Year award, and was ranked in 2012 as a Best Place to Work by the Central Penn Business Journal, the Philadelphia Business Journal, and in 2013 by Philly.com.
About AWeber
AWeber, headquartered in Chalfont, Pa., helps more than 120,000 businesses, entrepreneurs and bloggers increase sales and profits through its suite of web-based email marketing software. The privately held company was founded in 1998. For more information, visit aweber.com, subscribe to the AWeber blog, or follow @AWeber on Twitter and Facebook.