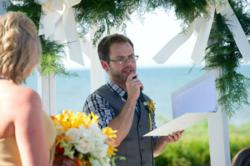 Practice, Practice, Practice. It's time to start thinking about wedding vows
Cleveland, OH (PRWEB) April 25, 2013
It's almost time for wedding season, which means the final touches need to come along in the next few weeks. In addition to helping write a funny best man speech, Laugh Staff wants to help the bride and groom by sharing some tips for wedding vows.
According to The Knot, writing personalized vows isn't as easy as it looks and should not be done the night before the wedding. As May is approaching, brides and grooms should start to think about their vows if they are writing their own.
The first tip given by The Knot is to make sure the chosen house of worship will even allow personalized vows. Not all celebrants are created equal and some require specific, traditional vows to be spoken. Having a draft of vows for the officiant is also something a bride and groom might need even if unique wedding vows are allowed.
Once a couple gets the green light for personalized vows, they need to think about the tone they are setting (funny, romantic, touching, etc.). Brides and grooms may also want to sit down together and discuss their vows and what marriage truly means to them. After brainstorming together, The Knot recommends some alone time to write vows separately.
"The best vows that I have seen are cause and effect. This happens when the bride or groom describes what their future spouse does and how it makes them a better person," said Laugh Staff co-founder, Josh Womack.
The Knot also details that vows need to stick to the point. While they are important to the ceremony, there is no need to make them longer than a minute. There will be time to say more at the reception.
For more information about Laugh Staff, Inc., visit http://www.laughstaff.com, call 740-706-6690 or email info(at)laughstaff(dot)com.
About Laugh Staff, Inc:
Laugh Staff, Inc. was founded in 2012 by a team of comedians and writers in Cleveland, Ohio. Laugh Staff helps their clients with best man speeches as well as providing best man speech examples on their blog. They assist best men and maids of honor in speech-editing, speech writing, and provide training on speech delivery. Recognizing the importance of the big day, Laugh Staff's professional comedians work with best men and maids of honor to ensure they make a lasting impression.