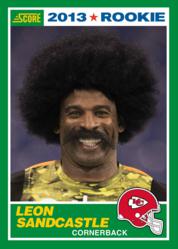 Irving, TX (PRWEB) April 24, 2013
Panini America (http://www.paniniamerica.net), the world's largest sports and entertainment collectibles company and the official trading card partner of the NFL Draft, announced today that it will produce officially licensed Rookie Cards of Leon Sandcastle, the NFL Network's fictional top NFL draft prospect, for its first two 2013 trading card sets – Score and Prestige. Sandcastle will appear as a member of the Kansas City Chiefs and will join other members of the 2013 NFL Rookie Draft Class.
Sandcastle, played by NFL Hall of Famer and NFL Network personality Deion Sanders, first burst onto the scene as the subject of an entertaining Super Bowl XLVII commercial promoting the network's months-long coverage leading up to this week's 2013 NFL Draft. Sandcastle instantly became a social media phenomenon. Now, he'll have his own Rookie Cards.
Sandcastle's first cards will appear exclusively in retail packs of Panini's 2013 Score Football, which releases in late May and retails for $1.99 per pack. The landmark 25th anniversary of the Score brand will feature Rookie Cards on the iconic 1989 Score design, including Sandcastle's. Panini America also will include autographed Leon Sandcastle Rookie Cards in the late-June release of 2013 Prestige Football, available in hobby product only and retails $2.99 per pack at retail and $3.99 at hobby. Information on Panini's NFL Product and rookies including Leon Sandcastle can be found online at http://www.paniniamerica.net and by following @PaniniAmerica on Twitter using the hash tag #ScoreRookie.
"Leon Sandcastle's larger-than-life persona took the NFL world by storm earlier this year and his presence in our first two products of 2013 season is a direct result of that," said Panini America CEO Mark Warsop. "We had fans and collectors from all over asking us to make Sandcastle Rookie Cards a reality. Now that we've done that, we're confident that his first trading cards will deliver a definite fun factor along with other 2013 NFL Rookies."
Panini America is the only company in the world that manufactures licensed trading cards and stickers for the NBA, NFL, NFL PLAYERS, NHL, NHLPA, MLBPA and FIFA World Cup. The company also has exclusive relationships with USA Baseball, USA Basketball and the U.S. Soccer Women's National Team. In addition Panini also has relationships with the Pro Football Hall of Fame, Naismith Memorial Basketball Hall of Fame and the National Baseball Hall of Fame and owns exclusive entertainment licenses with Disney, One Direction, Justin Bieber and Michael Jackson, and more than 600 global licenses with other sports and entertainment properties.
ABOUT PANINI:
The Panini Group, established almost 50 years ago in Modena, Italy, has subsidiaries throughout Europe, Latin America and the United States. Panini is the world leader in officially licensed collectibles and is the most significant publisher of collectibles in the U.S., with official licenses for MLBPA, NBA, NFL, NHL, FIFA, USA Baseball, Disney, Nickelodeon, Warner Bros. and other key properties from many other licensors. Panini has distribution channels in more than 100 countries and employs a staff of over 800. For more information visit us at http://www.paniniamerica.net, http://www.paninigroup.com or http://www.paniniamerica.wordpress.com. You can also follow Panini America on social media platforms Facebook, Twitter and on YouTube.