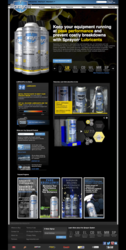 This new website was designed specifically based on what our end-users told us they wanted
Cleveland, OH (PRWEB) April 25, 2013
Sprayon® Products, the long-standing leader in delivering reliable, innovative solutions for the most demanding industrial and MRO applications, is proud to introduce a new interactive web experience with the re-launch of Sprayon.com.
"One of the things on which we pride ourselves at Sprayon is our involvement and interaction with our end-users. We really try to listen to what our end-users want & need for their jobs. And this new website was designed specifically based on what our end-users told us they wanted," said Leo Chippy, Product Manager at Sprayon Products. Among its many new features, the new Sprayon.com features a new design, improved navigation, fully integrated content-rich home page and a new video platform.
With Sprayon's diverse product portfolio, the new layout and design are essential in helping end-users not only learn about the entire Sprayon offering, but also help them get to the products they're looking for quickly. The new, content-rich homepage provides a wealth of information through integrated video and graphic content to help users to get quick snap-shots of each of the product categories as well as each of the Industries that Sprayon serves at the very front end of the site. And the new categorized Video Library features over 40 videos to help end-users learn how the Sprayon Product Line and the Sprayon System can help them in their specific industries.
As before, the Product Detail Pages on Sprayon.com provide users with complete product breakdowns including specific features, video content, MSDS, links to NSF Registrations, Product Attributes, Applications, Specs and much, much more. The new website also features a new suite of literature including competitive cross-references, industry-specific brochures, and interactive downloadable catalogs.
Added Chippy, "We're really proud of what we've done with Sprayon.com and we've received great reviews from our beta testers. We really feel like we've got the best website in the industry to go along with the best line of products and solutions for the industrial & MRO space."
To check out the new website and learn more about Sprayon Products, please visit Sprayon.com.